CSX Reaches Agreement with IAM and NCFO on Paid Sick Leave for Railroad Workers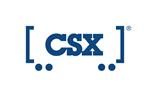 CSX today announced that it has reached an agreement with two additional railroad unions to provide paid sick leave to its employees.
The agreements were reached with the International Association of Machinists and Aerospace Workers (IAM), which represents railroad machinists, and the National Conference of Firemen and Oilers (NCFO), which represents the company's utility workers.
The new contracts are demonstrative of CSX's commitment to continue working with its employees and their representatives to improve the work experience of its employees. CSX recently announced contractual agreements with two other unions – the Brotherhood of Maintenance of Way and Brotherhood of Railway Carmen – with provisions of paid sick leave.
Joe Hinrichs, president and chief executive officer of CSX said, "CSX is very much committed to the wellbeing of all of our employees and their families. We have a great respect for the work they do in service to our customers and the nation, and we will continue to partner with them and their representatives to ensure they have the best possible employment experience with our railroad. We appreciate the collaboration with IAM and NCFO, and are proud of the momentum we are building with our union partners to find solutions by working together."
About CSX
CSX (NASDAQ: CSX), based in Jacksonville, Florida, is a premier transportation company. It provides rail, intermodal and rail-to-truck transload services and solutions to customers across a broad array of markets, including energy, industrial, construction, agricultural and consumer products. For nearly 200 years, CSX has played a critical role in the nation's economic expansion and industrial development. Its network connects every major metropolitan area in the eastern United States, where nearly two-thirds of the nation's population resides. It also links over 240 short-line railroads and more than 70 ocean, river and lake ports with major population centers and farming towns alike. More information about CSX Corp. and its subsidiaries is available at www.csx.com. Like us on Facebook (http://www.facebook.com/OfficialCSX) and follow us on Twitter (http://twitter.com/CSX).
Contact:
Bryan Tucker – Corporate Communications – (855) 955-6397
Source: CSX Corporation