NAHB: OMB Proposes Standards on Building Materials Made in America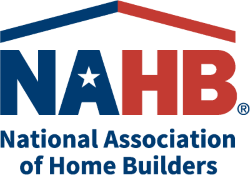 The Office of Management and Budget ("OMB") has proposed new standards to determine if construction materials for federally funded infrastructure projects are made in the USA. The new guidance, required by the Infrastructure Investment and Jobs Act—also known as the Bipartisan Infrastructure Law ("BIL")—"sets standards to carry out the statutory requirement that all manufacturing processes for construction material occur in the United States." Federally funded infrastructure projects include housing development that receives any federal support such as through the CDBG and HOME programs.
Covered Construction Materials and Manufacturing Standards
The Build America, Buy America Act (BABA)—part of the BIL—requires that OMB issue standards that define ''all manufacturing processes'' in the case of construction materials. Initial guidance (memorandum M–22–11) issued in April 2022 fell short of this and instead provided non-binding guidance on the definition of construction materials. The latest proposal includes an expanded list of products considered construction materials and proposes standards for ''all manufacturing processes'' for the manufacture of construction materials.
Among construction materials covered by the guidance are lumber, drywall, glass, and plastics. The guidance includes domestic manufacturing process standards for the following construction materials.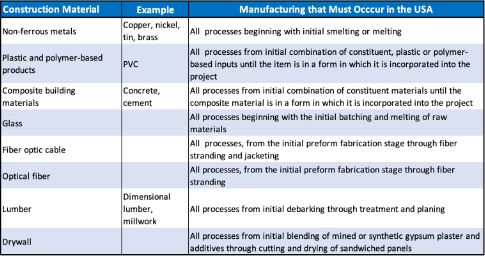 Defining Infrastructure
According to OMB, infrastructure includes roads, highways, and bridges; water systems, including drinking water and wastewater systems; electrical transmission facilities and systems; utilities; broadband infrastructure; and buildings and real property.
OMB instructs Federal awarding agencies to interpret the term ''infrastructure'' broadly and consider the description provided in paragraph (c) of this section as illustrative and not exhaustive.
However, OMB then directs agencies to consider certain criteria when determining if a particular project constitutes ''infrastructure.'' These include whether the project will serve a public function, including whether the project is publicly owned and operated, privately operated on behalf of the public, or is a place of public accommodation, as opposed to a project that is privately owned and not open to the public.
Waivers and Exemptions
A Federal awarding agency may issue a waiver to the application of the Buy America Preference. The agency notes three types of waivers:
Public Interest Waiver: May be applied if the Buy America Preference would be inconsistent with the public interest.
Nonavailability Waiver: May be applied if types of iron, steel, manufactured products, or construction materials are not produced in the United States in sufficient and reasonably available quantities or of a satisfactory quality
Unreasonable Cost Waiver: May be applied if the inclusion of iron, steel, manufactured products, or construction materials produced in the United States will increase the cost of the overall project by more than 25 percent
Before issuing a waiver, the Federal awarding agency must receive a written request from a non-Federal entity to waive the application of the Buy America Preference. The awarding agency must then "prepare a detailed written explanation," make the waiver and explanation publicly available, allow a minimum 15-day public comment period, and then submit to OMB for final review.
The guidance exempts awards expenditures for financial assistance made in anticipation of or response to an event or events that qualify as an ''emergency'' or ''major disaster."
Public Comment Period
OMB has provided only 30 days to comment on the new standard. NAHB will submit comments as we believe that, under OMB's proposal as written, virtually all housing development could be excluded from the standard. We have strongly urged HUD to exempt single-family and multifamily affordable housing projects from BABA mandates.
However, NAHB remains concerned that the "built in America" standards may stall road and utility projects funded by CDBG or HOME that are needed to allow housing development to take place.
To view the original release, click here.
Source: National Association of Home Builders