ECMD Partners with North Wilkesboro Speedway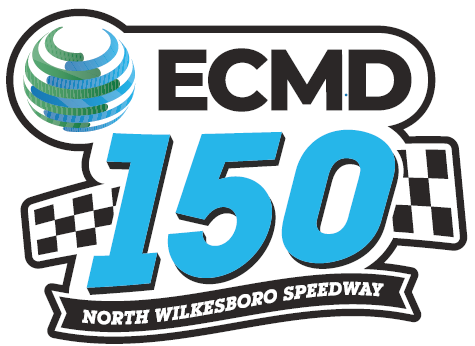 North Wilkesboro-based ECMD, Inc., a world-class supply chain provider to the residential building industry, is proud to announce its partnership with North Wilkesboro Speedway as the title sponsor for the ASA Stars Super Late Model Race being held during NASCAR All Star Race week.
The ECMD 150 will be held Tuesday May 16, 2023, at historic North Wilkesboro Speedway to kick off NASCAR All-Star Race week activities.
"It's an honor for ECMD to participate in this historic event as NASCAR returns to its roots. On behalf of our employee owners, we take pride in the opportunity to support our local community on the world stage of motorsports," said Kelly Hendrix, President and CEO of ECMD, Inc.
As NASCAR celebrates its 75th anniversary, it's only fitting that the All-Star Race will be run in Wilkes County at one of NASCAR's original race tracks. ECMD also has a long history with racing as their very own Scott Kilby, VP of Moulding Manufacturing, was a champion driver and sponsored by ECMD from 1994-2001.
"Bringing NASCAR and grassroots racing back to North Wilkesboro Speedway is not only a thrill for race fans nationwide but also a way to reconnect motorsports to the Wilkes County community," said Jessica Fickenscher, the executive director of the NASCAR All-Star Race.
"We are proud to partner with ECMD, a local company dedicated to serving the community, to kick off NASCAR All-Star Race week with grassroots racing at what will be a newly renovated North Wilkesboro Speedway."
Ticket and schedule information for the ECMD 150 will be released in early March.
About ECMD, Inc.
ECMD is 100% employee owned with a mission to improve the lives of our employees. Founded by innovative entrepreneurs who created the modern building materials global supply chain, their passion and integrity remain the fabric of our culture. ECMD partners with customers nationwide to provide a world-class supply chain to builders, remodelers, finish carpenters, and consumers with the materials needed to complete simple projects to dream houses. By leveraging technology and the team's passion for its customers, ECMD has built a strategic integrated portfolio of 6 operating divisions: EastCoast Mouldings, Klumb Forest Products, Crown Heritage Stairs, ECMD Distribution, Arndt & Herman Building Products and Clifton Moulding Co.
Contact:
Robert Ballard – Vice President of Marketing – bob.ballard@ecmd.com
Source: EDMD, Inc.