Roseburg Names Matt Lawless as Vice President, General Counsel and Corporate Secretary

Roseburg is pleased to announce that Matt Lawless has been named Vice President-General Counsel and Corporate Secretary, effective March 1, 2023. Matt will join the company's Executive Team and help set strategy and overall direction for the business.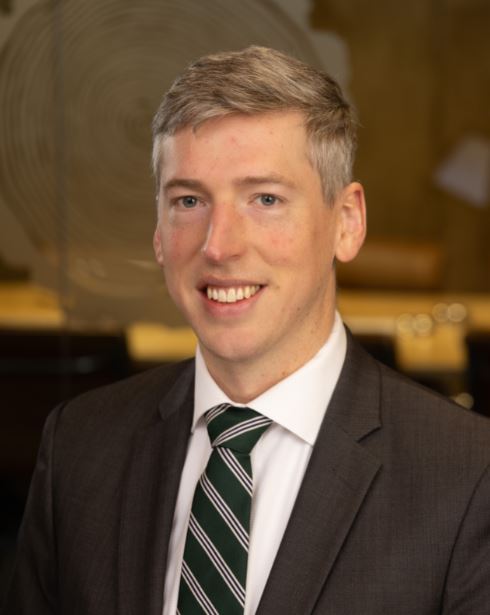 "Matt is an accomplished legal strategist and litigator, and we are fortunate to have him on the team," Roseburg President and CEO Grady Mulbery said. "He has shown a passion for the business and our industry, and a clear understanding of our strategic objectives. We look forward to his continued contribution to Roseburg's growth and success."
Matt joined Roseburg in November 2019 as Assistant General Counsel. His scope of responsibility expanded in January 2022, when Stuart Gray moved out of the General Counsel role to become Chief Operating Officer for Roseburg.
"Matt has a keen legal mind and deep appreciation of Roseburg's values and goals as a business," Roseburg COO Stuart Gray said. "His leadership and skillset have proven invaluable as we address the complex legal issues regarding our timberlands, operations, and ongoing work to expand our geographic footprint in North America."
Before Roseburg, Matt practiced law at Arnold Gallagher PC in Eugene, Ore.; and Jones Day in Cleveland, Ohio. He began his career at Howard, Stallings, From, Atkins, Angell & Davis PA in Raleigh, NC. Matt earned his law degree from the University of Memphis Cecil C. Humphreys School of Law, and his bachelor's degree from Washington and Lee University in Virginia.
About Roseburg Forest Products
Founded in 1936, Roseburg Forest Products is a privately-owned company and one of North America's leading producers of particleboard, medium density fiberboard and thermally fused laminates. Roseburg also manufactures softwood and hardwood plywood, lumber, LVL and I-joists. The company owns and sustainably manages more than 600,000 acres of timberland in Oregon, North Carolina and Virginia, as well as an export wood chip terminal facility in Coos Bay, Ore. Roseburg products are shipped throughout North America and the Pacific Rim. To learn more about the company please visit www.Roseburg.com
Contact:
Rebecca Taylor – Corporate Communications Director – rebeccat@rfpco.com – (541) 679-2614
Source: Roseburg Forest Products Co.