Saint-Gobain Completes the Sale of its Distribution Business in the UK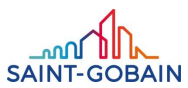 Saint-Gobain has completed the sale, announced on December 12th, 2022, of all its merchanting brands in the United Kingdom – including the builders and timber merchant Jewson – to the Stark group. Saint-Gobain now no longer has any distribution businesses in the United Kingdom.
These divestments are part of Saint-Gobain's continued business profile optimization strategy to enhance the Group's growth and profitability in line with its "Grow & Impact" plan.
About Saint-Gobain
Worldwide leader in light and sustainable construction, Saint-Gobain designs, manufactures and distributes materials and services for the construction and industrial markets. Its integrated solutions for the renovation of public and private buildings, light construction and the decarbonization of construction and industry are developed through a continuous innovation process and provide sustainability and performance. The Group's commitment is guided by its purpose, "MAKING THE WORLD A BETTER HOME".
Contact:
Vivien Dardel – Analyst & Investor Relations – +33 1 88 54 29 77
Source: Compagnie de Saint-Gobain