Avon Plastics Launches New Armadillo Golden Promise™ Warranty for Armadillo Evolution Series

Avon Plastics has launched their Armadillo Golden Promise™ warranty on their Armadillo Evolution line, including grooved and solid decking boards and respective riser, fascia and 2×4's.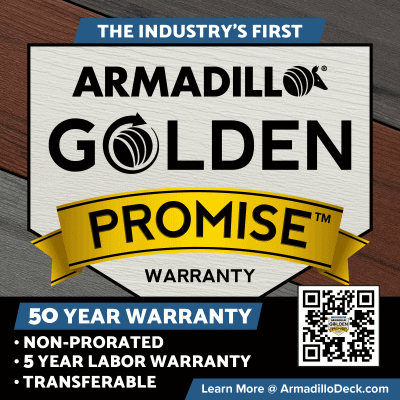 The Armadillo Golden Promise™ coverage is an industry first complete warranty which provides non-prorated coverage for 50 years and offers 5 years labor coverage. It also includes automatic one-time transferability for homeowners when they sell their home. Commercial applications are also covered by a 20-year, non-prorated warranty with a 2 year labor warranty.
"NO ONE in the industry is offering this strong of a warranty, so how can we? We have literally millions of installed feet of product over the decades and have a long, historic data on this specific profile. It has performed perfectly for a long time. Now it's time to extend our confidence directly to our customers," says Doug DeLuca, VP of Sales and Marketing.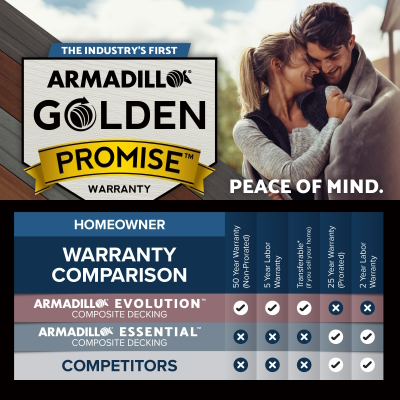 For information on the new Armadillo Golden Promise™ visit www.ArmadilloDeck.com
About Avon Plastics
Avon Plastics was founded in 1966 and is a Minnesota based, third generation family owned company specializing in composite decking (Armadillo
), lawn and garden products (Master Mark™), decorative lattice (Grid Axcents™), interlocking flooring tile (QuixTile™) and TurboClip™ decking fasteners. Avon Plastics is the nation's first post-consumer recycler of HDPE and has been honored with the United Nations Environmental Program award for sustainability.
Contact:
Sara Tschida – Marketing Support Manager – sara.tschida@avonplastics.com – (320) 243-7318 ext. 117
Source: Avon Plastics, Inc.