Cook County Home Center Acquires Sawtooth Lumber

Cook County Home Center in Grand Marais has acquired substantially all the assets of Sawtooth Lumber Inc, also located in Grand Marais. The consolidation of the two lumber yards is expected to provide customers of both businesses with access to additional inventory and improved service.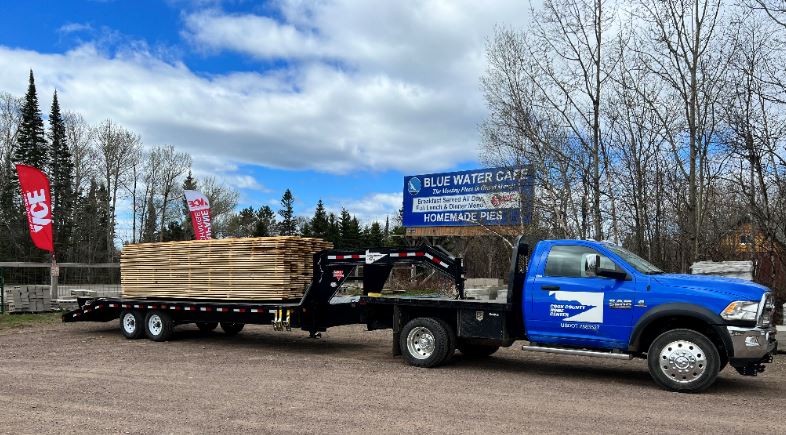 Sawtooth Lumber, located at 1620 West Highway 61, will become the Westside branch of the Cook County Home Center which is located just east of Grand Marais. The new Westside location will serve as the receiving location for all building supplies. The Eastside location will remain the Ace Hardware Store and self service lumber yard with most of its current building supply inventory.
"We were outgrowing our Eastside location," said Nate Sheils, President of the Home Center. "This acquisition gives us more space, consolidates the buying power of the two lumberyards, and allows us to manage a larger inventory. That is a real benefit for our contractor customers and vendors."
Customer deliveries from the lumberyard will originate at the Westside location, allowing for maximum consolidation of jobsite deliveries, improving delivery efficiency and timeliness.
Tom Junker, Sawtooth's former owner, will continue to operate his family's other lumberyards, Voyageur Lumber in Ely, Junker's Lumber in Littlefork, and Porky's Building Supply in Eveleth.
The Home Center is owned by Sheils and Jeff Buetow. The two acquired the business, formerly Superior Lumber, in 2015 and have had outstanding success building the sales, staff, and services of the lumberyard and hardware business.
"This acquisition allows us to continue the growth of our business," Buetow said. "And we plan to continue providing our hardware store and lumberyard customers with all the best products and service."
Cook County Home Center has long been a successful, locally owned enterprise. "There is a trend in our industry of large investment groups buying small independent lumber yards," Dan Fernlund, Cook County Home Center's director of operations said. "We are happy to have the opportunity to add the Sawtooth facility to our locally owned company."
Contact:
Dan Fernlund – Director of Operations – dan@cookcountyhc.com – (218) 387-1771
Source: Cook County Home Center, L.L.C.