Hunt Forest Products commits $500,000 to Forest Products Innovation Center
Hunt Forest Products LLC has pledged $500,000 to support the new Forest Products Innovation Center on Louisiana Tech University's South Campus. The facility will provide space and support for a transdisciplinary approach to solving the challenges associated with the timber industry.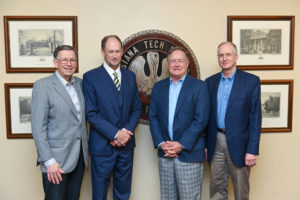 The Forest Products Innovation Center is slated to become a hub for discovering new methods to capture, produce, and utilize the state's renewable and sustainable forests for generations to come. It was developed in response to the University's Tech 2030 strategic initiative to create programs and research that bolster collaboration and partnerships within academic areas, a unique aspect of the Tech culture.
"As co-owner and chairman of the Board of Directors for Hunt Forest Products, we value our current partnership with Louisiana Tech University," said Trott Hunt. "We know the collaboration between industry and academia is key to catalyzing innovation, research, and growth. Realizing the knowledge-based opportunities the Center will provide for the forestry industry, as well as the important role it will play within the state and local economies, we are happy to expand this relationship by investing in the new state of the art center."
The facility will bring together faculty and students from diverse areas like Forestry, Chemical and Industrial Engineering, Sustainable Supply Chain Management, as well as other disciplines, to collaborate on the challenges that will face the State of Louisiana in the future.
"We anticipate research in new uses of our vast forests to create greater economic opportunities for our state by focusing on more effective and efficient processing of forest products while also contributing to sustainability and a low carbon future," said Dr. Les Guice, Louisiana Tech President. "This new building will also provide space for research collaborations with the industry and other partners, and each of these initiatives will help our students be better prepared for careers in the forest-products and other industries."
"We believe this Center will have a tremendous impact on the forestry industry by connecting people, ideas, research, and resources," said Jimmy Hunt, co-owner and vice-chairman of the Board of Directors of Hunt Forest Products. "Louisiana Tech has a discovery-driven culture, and we are thrilled to be a collaborating advisor in the development of the Forest Products Innovation Center. "
Hunt Forest Products (HFP) was founded in 1978 as a full-service wood products company. HFP manufactures a variety of plywood, lumber, and other specialty wood products to meet customers' needs.
Mike Walpole of Ruston has been chosen as the designer for this phase of the building construction.
Source: Louisiana Tech University