Lorraine Russ Named Director of Structural & Specialty Panels

Roseburg is pleased to announce that Lorraine Russ has joined the company's Commercial Team as Director of Structural and Specialty Panels. In this newly created role, she will lead the company's commercial efforts for softwood and hardwood plywood.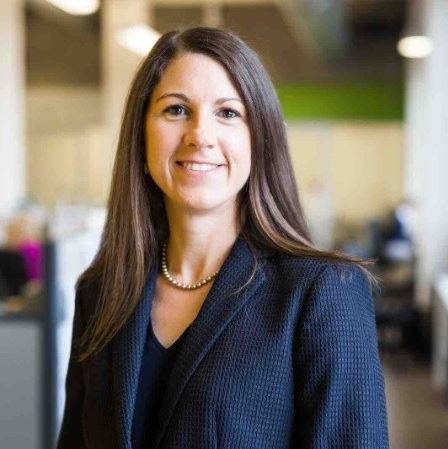 Lorraine comes to Roseburg with a solid depth of leadership experience in strategic sales planning, product innovation and commercialization, and marketing after more than a decade in the building products industry.
"We are excited to add someone with Lorraine's mix of sales, marketing, and product innovation acumen to our team," Senior Vice President of Sales and Marketing Doug Asano said. "As Roseburg continues to expand and diversify both geographically and in our product offerings, building a robust and dynamic Commercial Leadership Team will allow us to continue to adapt, innovate, and grow."
Lorraine joins Roseburg from Carlisle Construction Materials, where she served as General Manager of Diversified Products. She previously worked as Director of Sales for Versico Roofing Systems, and held a variety of positions at Louisiana-Pacific Corporation, including Director of Sales and Marketing. Lorraine earned her MBA from Belmont University's Jack C. Massey College of Business and a bachelor's degree from the University of Maryland, where she led the Terps as Captain of the Women's Tennis Team.
Roseburg's Commercial Team includes sales, marketing, supply chain, and logistics.
About Roseburg Forest Products
Founded in 1936, Roseburg Forest Products is a privately-owned company and one of North America's leading producers of particleboard, medium density fiberboard and thermally fused laminates. Roseburg also manufactures softwood and hardwood plywood, lumber, LVL and I-joists. The company owns and sustainably manages more than 600,000 acres of timberland in Oregon, North Carolina and Virginia, as well as an export wood chip terminal facility in Coos Bay, Ore. Roseburg products are shipped throughout North America and the Pacific Rim. To learn more about the company please visit www.Roseburg.com.
Contact:
Rebecca Taylor – Corporate Communications Director – rebeccat@rfpco.com – (541) 679-2614
Source: Roseburg Forest Products Co.