ABC: Construction Job Openings Jump By 129,000 in February; Sharp Contrast to January's Steep Decline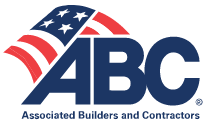 The construction industry supported 412,000 job openings in February, according to an Associated Builders and Contractors analysis of data from the U.S. Bureau of Labor Statistics' Job Openings and Labor Turnover Survey. JOLTS defines a job opening as any unfilled position for which an employer is actively recruiting. Industry job openings increased by 129,000 last month, but are down 9,000 from the same time last year.
"These data confirm the sharp decline in construction job openings in January was a statistical aberration," said ABC Chief Economist Anirban Basu. "Demand for construction workers remains elevated despite fears of recession, slow implementation of America's infrastructure rebuilding program, higher interest rates and growing concerns regarding the availability of project financing in light of recent bank failures.
"This also reinforces the findings from ABC's latest Construction Confidence Index, which indicate that the typical nonresidential construction firm remains in growth mode, expecting sales, employment and even profit margins to expand over the next six months," said Basu. "In the face of numerous headwinds, the resilience of the U.S. nonresidential construction industry remains remarkable."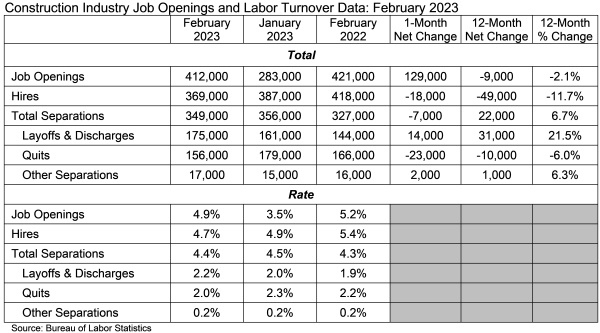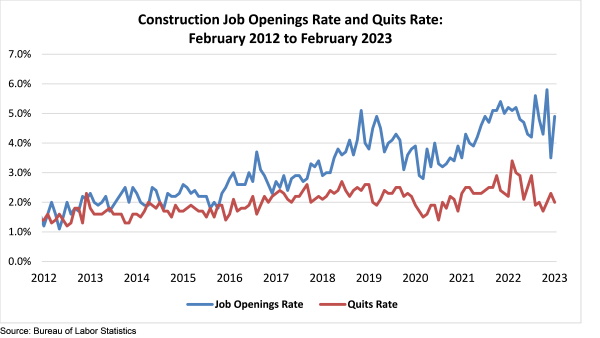 Source: Associated Builders and Contractors, Inc.