ABC: March Construction Input Prices Down Year-Over-Year for First Time Since August 2020, Still 39% Higher Than February 2020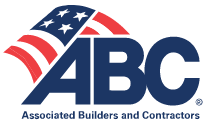 Construction input prices increased 0.2% in March, according to an Associated Builders and Contractors analysis of U.S. Bureau of Labor Statistics Producer Price Index data released today. Nonresidential construction input prices rose 0.4% for the month.
Overall construction input prices are 0.9% lower than in March 2022, while nonresidential construction input prices have fallen 0.6% over the past year. Construction input prices are now up 39.0% since February 2020, the month before the COVID-19 pandemic began.
"Construction input costs are down on a year-over-year basis for the first time since August 2020," said ABC Chief Economist Anirban Basu. "The good news is that the latest PPI data, which show broad-based declines in both goods and services prices, suggest that the expected 25 basis point interest rate hike at the Federal Reserve's May meeting will be the last of the cycle.
"The bad news is that this data indicates greatly diminished pricing power among wholesalers and others," said Basu. "While some will cheer the notion that rate increases are set to end soon, the Federal Reserve may want to maintain higher interest rates for longer to ensure that inflation has been suppressed. This, along with other signs of slowing economic activity, suggests that the possibility of recession remains elevated, though the economic outlook is increasingly uncertain."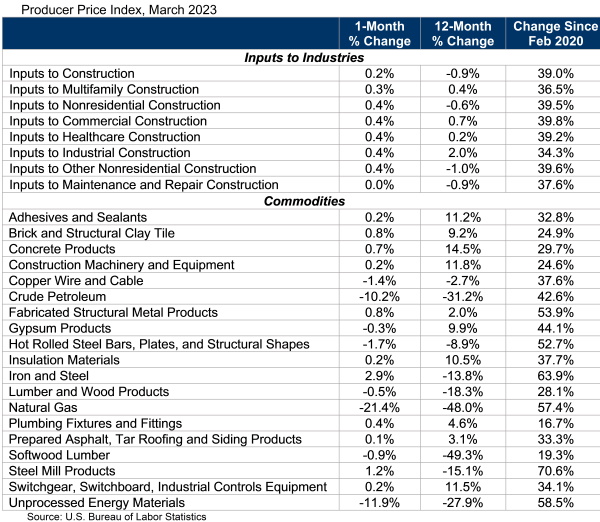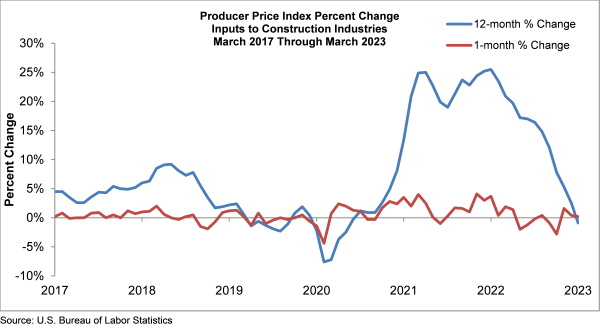 Source: Associated Builders and Contractors, Inc.