Madison's Reporter: Lumber Demand Remains Muted for Easter Long Weekend

What is normally considered a "litmus test" of sorts for the construction framing dimension softwood lumber market, the week leading up to the Easter holiday demonstrated still weak demand. Indications, though, were for increasing sales volumes to come, as sawmills were better able to deflect counter-offers than in recent weeks. Another bought of harsh winter weather, especially in eastern Canada, kept home building activity low. Several regions across the continent did experience actual spring, thus demand for wood did start increasing. As the calendar moves closer to May, the usual spring building season will truly arrive.
Check back with the Madison's website www.madisonsreport.com regularly to be informed of what to look for next. In the week ending April 7, 2023, the price of Western Spruce-Pine-Fir 2×4 #2&Btr KD (RL) was US$335 mfbm, which is down by -$21, or -6%, from the previous week when it was $356, said weekly forest products industry price guide newsletter Madison's Lumber Reporter. That week's price is down by -$38, or -10%, from one month ago when it was $373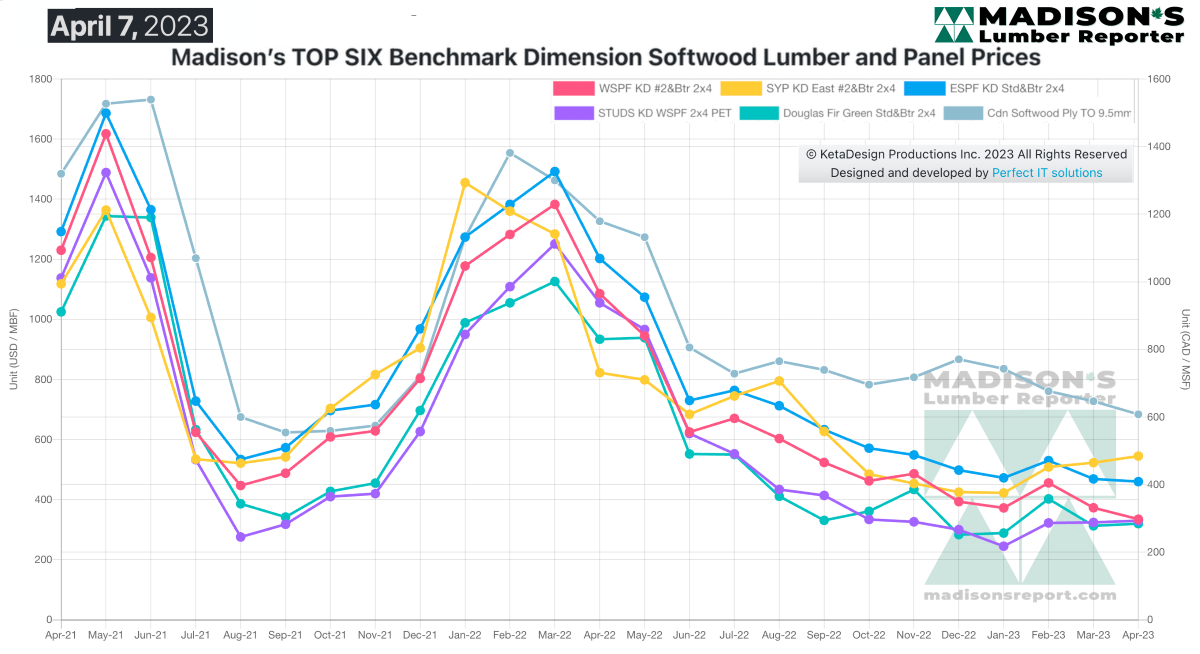 Excess overall supply of Southern Yellow Pine and European wood continued to give buyers myriad options to cover their positions.
"Solid wood commodity traders reported a so-so pace to sales activity in virtually every category during the holiday-shortened week." — Madison's Lumber Reporter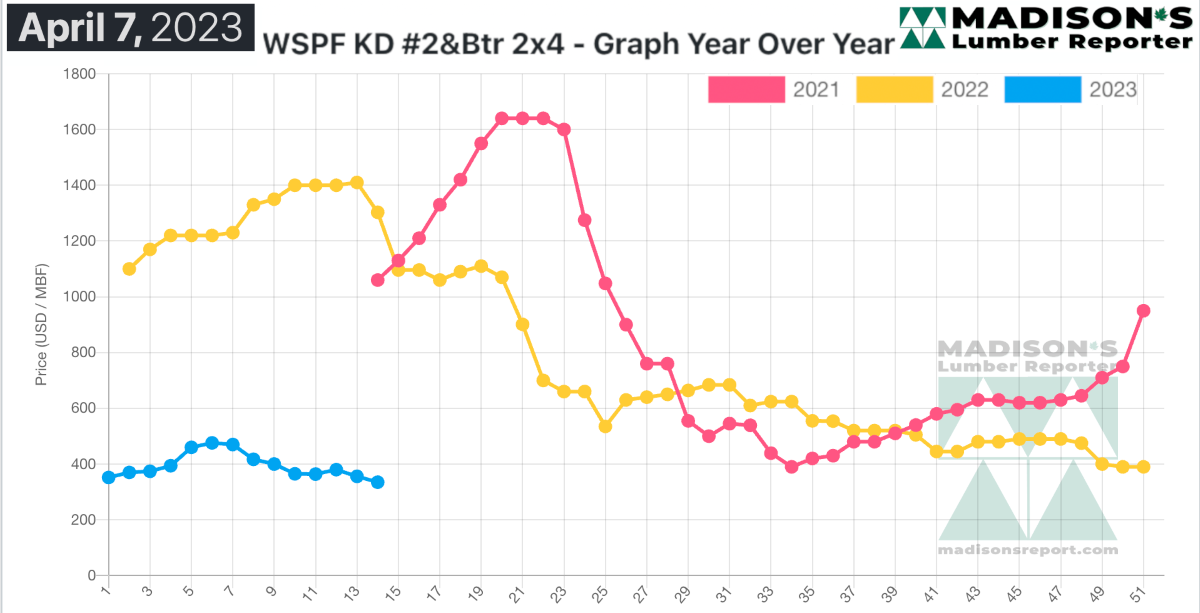 Sales of Western S-P-F commodities started the week on a so-so note and dwindled slowly from there. According to traders in the United States, buyers were content with their inventories and took the opportunity of a holiday-shortened week to retreat to the sidelines. Producers maintained late-April order files and kept their asking prices at or slightly on either side of the previous week's levels. Another spate of cold weather enveloped much of the US Midwest, dampening demand from that region. Players noted that sellers of European wood were changing their strategies, with that source of supply anticipated to dry up.
Suppliers of Western S-P-F lumber in Western Canada reported pokey demand. Buyers stayed cautious and were only too happy to play it quiet in advance of the Easter holiday weekend. Modest business persisted through the distribution network, but those sales volumes remained subpar by any standard. Buyers continued to avoid any speculative purchasing. For their part, producers were increasingly disinterested in counter-offers even as they showed plentiful availability. While the outlook was cold and wet in the West over the holiday weekend, players looked toward warmer weather in the long-term forecast.
"Southern Yellow Pine trading slowed down as the Easter holiday approached and buyers took the opportunity to step back and digest previously-ordered material. Producers remained confident, keeping their numbers firm or slightly above last week's levels and extending order files into late-April on most items. Industrial customers stayed more active than other buyers, and studs were again a steady seller." — Madison's Lumber Reporter
Madison's Benchmark Top-Six Softwood Lumber and Panel Prices: Monthly Averages

Compared to the same week last year, when it was US$1,096 mfbm, the price of Western Spruce-Pine-Fir 2×4 #2&Btr KD (RL) for the week ending April 7, 2023 was down by -$761, or -21%. Compared to two years ago when it was $1,110, that week's price is down by -$565, or -51%.
About Madison's Lumber Reporter
Established in 1952, Madison's Lumber Prices is your premiere source for North American softwood lumber news, prices, industry insight, and industry contacts. The weekly Madison's Lumber Reporter publishes current Canadian and US construction framing dimension lumber and panel wholesaler pricing information 50 weeks a year and access to historical pricing as well.
Contact:
Keta Kosman – Publisher, Madison's Lumber Reporter – (604) 319-2266 – https://madisonsreport.com/
Source: Madison's Lumber Reporter