PPG Reports First Quarter Financial Results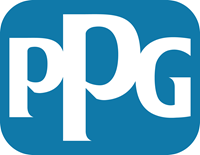 PPG reported financial results for the first quarter 2023.
Record net sales of about $4.4 billion
Organic sales growth of more than 5% versus prior year, led by higher selling prices
Reported earnings per diluted share (EPS) of $1.11 and adjusted EPS of $1.82
Accelerating margin recovery; operating margins up 380 basis points year over year
Supply disruptions moderating and manufacturing operations improving
Operating cash flow improvement of about $400 million year over year
First Quarter Consolidated Results
$ in millions, except EPS

1Q 2023

1Q 2022

Y-O-Y change

Net sales*
$4,380
$4,308
+2%
Net income
$264
$18
+1,367%
Adjusted net income**
$432
$327
+32%
EPS
$1.11
$0.08
+1,288%
Adjusted EPS**
$1.82
$1.37
+33%
*Components of year-over-year net sales change: higher selling prices (+8%), lower sales volumes (-3%), divestiture-related sales and the wind down of Russia operations (-1%), unfavorable foreign currency translation (-2%)
**Detailed reconciliations of reported to adjusted figures are included below
President and CEO Comments
Tim Knavish, PPG president and chief executive officer, commented on the quarter:
As we communicated earlier this month, the pace of our operating margin recovery accelerated during the quarter, which drove a 33% year-over-year increase in adjusted EPS. Our improving results are despite macroeconomic conditions that remain challenging and reflect the strengths of our diverse business portfolio and progress we are making on restoring margins in line with our historical profile.
While the global demand environment generally remained consistent with our prior expectations, several businesses outperformed our original forecast and their respective markets. These include the aerospace coatings business and our Latin America region, each delivering record sales in the first quarter. In addition, our automotive original equipment manufacturer (OEM) coatings business benefited from solid global production growth and remains well positioned. Finally, our latest customer win in the U.S. architectural business provided a higher load-in benefit than originally projected.
Our strong earnings growth was across most business units and was aided by higher incremental margins that were driven by higher selling prices, improving manufacturing efficiencies and overall cost discipline. These factors also resulted in record first quarter operating earnings in our Europe, Middle East and Africa (EMEA) region.
Looking ahead, we anticipate the macro environment will generally remain consistent with the first quarter, with continued stabilization of economic activity (at lower absolute levels) in Europe and modestly improving demand in China. In the U.S., we expect sequential slowing in economic activity in certain end-use markets, particularly those that are construction-related. Supply chain disruptions are abating, and we are already experiencing and expect further increases in commodity raw material availability. We remain highly focused on partnering with our customers and delivering superior service and products with a focus on enhancing their productivity and sustainability. Finally, along with additional organic growth, we are executing and delivering on our previously announced restructuring actions and acquisition-related synergies, which collectively will drive additional margin recovery momentum and related operating cash flow.
Lastly, I want to thank our global employees for their unwavering dedication and focus on living our purpose – We protect and beautify the world – by making it happen and helping to deliver these strong first-quarter financial results.
First Quarter 2023 Reportable Segment Financial Results
Performance Coatings segment
$ in millions

1Q 2023

1Q 2022

Y-O-Y change

Net sales
$2,628
$2,570
+2%
Segment income
$395
$319
+24%
Segment income %
15.0%
12.4%
Sales volumes
-3%
Selling prices
+9%
Divestitures and wind down of Russia
-2%
Foreign currency translation
-2%
Performance Coatings net sales increased as higher selling prices in all businesses more than offset lower sales volumes, the impact of divestitures, the wind down of business in Russia, and unfavorable foreign currency translation.
Organic sales in the U.S. architectural coatings business grew by a high single-digit percentage aided by new business wins and higher selling prices, which more than offset the effect of weakening regional construction markets. PPG Comex delivered a record quarter and continues to benefit from strong concessionaire network growth and performance. As expected, demand for architectural coatings products in Europe remained subdued and consistent with prior quarters, stemming from low consumer confidence from continued geopolitical issues. Due to customer order patterns in Europe and the U.S., automotive refinish coatings organic sales were flat compared to the first quarter 2022, with order backlogs remaining in the U.S. The company expects refinish sales volumes to be close to 2019 pre-pandemic levels in the second quarter. Aerospace coatings sales volumes were stronger than originally anticipated with high-teen-percentage year-over-year sales volume growth. Organic sales in the protective and marine coatings business improved by a mid-single-digit percentage, primarily due to strong demand in the U.S. and Latin America.
Segment income increased by 24% versus the prior year primarily due to higher selling prices, which more than offset aggregate cost inflation and the impact of lower sales volumes. Additionally, we achieved restructuring cost savings from our previously announced programs. Segment operating margins improved by 260 basis points year over year.
Industrial Coatings segment
$ in millions

1Q 2023

1Q 2022

Y-O-Y change

Net sales
$1,752
$1,738
+1%
Segment income
$240
$140
+71%
Segment income %
13.7%
8.1%
Sales volumes
-3%
Selling prices
+7%
Acquisitions
+1%
Divestitures and wind down of Russia
-1%
Foreign currency translation
-3%
Industrial Coatings net sales increased modestly as higher selling prices across all businesses were partially offset by lower sales volumes, unfavorable foreign currency translation, and the wind down of business in Russia.
Automotive OEM coatings organic sales were sharply higher with solid contributions from higher sales volumes and global selling prices. Industry build growth was highest in Europe, where the company is well positioned with advantaged technologies and where regional growth is forecast to remain robust in 2023. Industrial coatings organic sales were down a low single-digit percentage as solid selling price realization was more than offset by lower sales volumes due to softer global industrial production. Packaging coatings delivered low single-digit percentage organic sales growth led by higher selling prices, which were offset by lower sales volumes in most regions.
Segment income was higher than prior year by $100 million mainly due to higher selling prices focused on margin recovery, partially offset by lower sales volumes. Segment margins improved by 560 basis points compared to the first quarter 2022.
Additional Financial Information
At quarter end, the company had cash and short-term investments totaling nearly $1.5 billion. Net debt was $5.8 billion, which is about $300 million lower compared to the prior-year first quarter. Inventories rose modestly on a sequential basis ahead of historically higher seasonal sales levels.
Corporate expenses were about $70 million in the first quarter, which was $15 million higher than the prior year, primarily due to higher non-cash pension expense.
Acquisition-related synergies and business restructuring programs delivered about $15 million of cost savings in the quarter.
Outlook
The company today reported the following projections for the second quarter and full year 2023 based on current global economic activity and in consideration of the economic uncertainty associated with the impacts of geopolitical issues in Europe and higher interest rates in most developed countries:
Second Quarter 2023
Aggregate sales volumes flat with equal potential for slight improvement or decrease of a low single-digit percentage year over year
Corporate expenses of about $75 million; higher than prior year primarily due to increased pension costs (non-cash)
Net interest expense of between $35 million and $40 million
Effective tax rate of 22.5% to 24%
Reported EPS of $1.92 to $2.02
Adjusted EPS of $2.05 to $2.15, excluding amortization expense of $0.13
Full Year 2023
Adjusted EPS of $6.95 to $7.25, excluding amortization expense, costs related to previously approved and communicated business restructuring, a non-cash pension settlement charge and the benefit from an insurance recovery. The mid-point of the full-year guidance projects 10% year-over-year earnings growth in the second half of 2023.
A detailed commentary and associated presentation slides related to the first quarter financial information is posted on the company's investor relations website.
The term organic sales as used in this press release is defined as net sales excluding the impact of currency, acquisitions, divestitures and the wind down of Russia operations.
For the full first quarter results, click here.
About PPG Industries
At PPG (NYSE:PPG), we work every day to develop and deliver the paints, coatings and specialty materials that our customers have trusted for 140 years. Through dedication and creativity, we solve our customers' biggest challenges, collaborating closely to find the right path forward. With headquarters in Pittsburgh, we operate and innovate in more than 70 countries and reported net sales of $17.7 billion in 2022. We serve customers in construction, consumer products, industrial and transportation markets and aftermarkets. To learn more, visit www.ppg.com.
Contact:
Mark Silvey – Corporate Communications – silvey@ppg.com – (412) 434-3046
Source: PPG Industries, Inc.