Packaging Corporation of America Reports First Quarter 2023 Results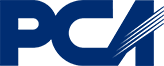 Packaging Corporation of America (NYSE: PKG) today reported first quarter 2023 net income of $190 million, or $2.11 per share, and net income of $198 million, or $2.20 per share, excluding special items. First quarter net sales were $2.0 billion in 2023 and $2.1 billion in 2022.

Reported earnings in the first quarter of 2023 include special items primarily for closure costs related to corrugated products facilities and design centers.
Excluding special items, the ($.52) per share decrease in first quarter 2023 earnings compared to the first quarter of 2022 was driven primarily by lower volumes in the Packaging ($.95) and Paper ($.04) segments, higher operating costs ($.27), higher depreciation expense ($.11), higher freight and logistics expenses ($.04), higher non-operating pension expense ($.04), and higher converting costs ($.02). These items were partially offset by higher prices and mix in the Packaging $.58 and Paper $.18 segments, a lower share count resulting from share repurchases in the second half of 2022 $.11, lower interest expense $.03, lower other expenses $.03, lower scheduled maintenance outage expenses $.01, and a lower tax rate $.01.
Results were ($.03) below first quarter guidance of $2.23 per share primarily due to lower volume and lower prices and mix in the Packaging segment.
Financial information by segment is summarized below and in the schedules with this release.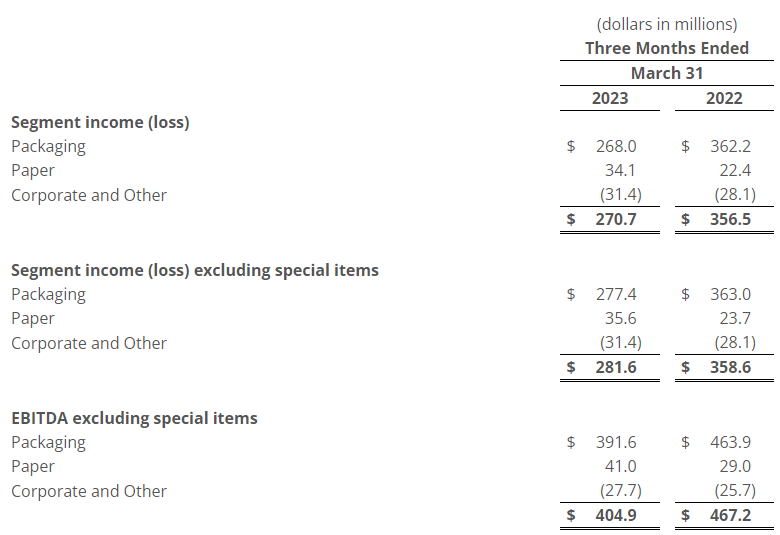 In the Packaging segment, total corrugated products shipments and shipments per day were down (12.7%) compared to the first quarter of 2022. Containerboard production was 1,086,000 tons, and containerboard inventory was down 36,000 tons from the first quarter of 2022 and up 6,000 tons compared to the fourth quarter of 2022. In the Paper segment, sales volume was down 23,000 tons from the first quarter of 2022 and down 6,000 tons compared to the fourth quarter of 2022.
Commenting on reported results, Mark W. Kowlzan, Chairman and CEO, said, "Packaging segment demand was below our expectations for the quarter. Consumer spending continues to be negatively impacted by higher interest rates and persistent inflation along with consumer buying preferences skewed more towards services versus durable and non-durable goods. After a strong start in January, consumer spending was increasingly softer as the quarter progressed, similar to our box shipments during the quarter. In addition, the PMI index indicates manufacturing has remained in contraction territory for the last five months and continued to decline. We ran our system in a very cost-effective manner based on this lower demand, and we managed containerboard inventories to our targeted weeks-of-inventory supply. Price and mix in our Packaging segment are still above last year's levels, although the positive impact was lower than expected primarily due to a price decrease in the published benchmark containerboard grades after our guidance was provided. However, even with these unanticipated market headwinds, we were able to offset most of the negative impact through our cost management and process efficiency optimization efforts at our mills and corrugated products plants, along with energy prices being lower than expected. The Paper segment had outstanding results driven by continued realization of our previously announced price increases and the benefits of our newly optimized paper business."
"Looking ahead as we move from the first and into the second quarter," Mr. Kowlzan added, "although there is one less shipping day for the corrugated business, we expect improved volume in our Packaging segment. However, prices will be lower as a result of the previously published domestic containerboard price decreases along with lower export prices. Sales volume as well as prices and mix in the Paper segment are assumed to be slightly lower based on lower demand. Although we do look for most operating costs to trend lower, our converting costs, scheduled maintenance outage expense and depreciation expense will be higher. Primarily due to recent increases in contract rail rates at most of our mills, we expect higher freight and logistics expenses compared to the first quarter. Considering these items, we expect second quarter earnings of $1.96 per share."
For the complete first quarter results, click here.
About Packaging Corporation of America
PCA is the third largest producer of containerboard products and a leading producer of uncoated freesheet paper in North America. PCA operates eight mills and 90 corrugated products plants and related facilities.
Contact:
Barbara Sessions – Investor Relations – (877) 454-2509
Source: Packaging Corporation of America