Simpson Manufacturing Co., Inc. Announces 2023 First Quarter Results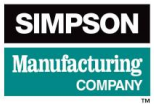 Simpson Manufacturing Co., Inc. (the "Company") (NYSE: SSD), an industry leader in engineered structural connectors and building solutions, today announced its financial results for the first quarter of 2023. Refer to the "Segment and Product Group Information" table below for additional segment information (including information about the Company's Asia/Pacific segment and Administrative and All Other segment).
All comparisons below (which are generally indicated by words such as "increased," "decreased," "remained," or "compared to"), unless otherwise noted, are comparing the quarter ended March 31, 2023, with the quarter ended March 31, 2022, and include the results of the acquisition of FIXCO Invest S.A.S ("ETANCO") on April 1, 2022.
2023 First Quarter Financial Highlights
Consolidated net sales of $534.4 million increased 8.3% from $493.6 million.

North America net sales of $406.3 million decreased 7.4% from $438.7 million, mostly due to lower volumes.
Europe net sales of $124.2 million increased 141.4% from $51.5 million, primarily due to the acquisition of ETANCO, partly offset by lower volumes and the negative effect of approximately $2.8 million in foreign currency translation. ETANCO contributed $80.0 million in net sales, which was up modestly year-over-year.

Consolidated gross profit of $252.9 million increased 6.8% from $236.8 million. Gross margin decreased to 47.3% from 48.0%.

North America gross margin increased to 50.6% from 49.7%, primarily from lower raw material costs, offset by higher factory and tooling costs, and warehouse and freight costs as a percentage of net sales.
Europe gross margin increased to 37.5% from 33.9% from lower raw material, labor, factory and tooling, warehouse and freight costs as a percentage of net sales. Europe gross profit of $46.6 million included $30.6 million from ETANCO.

Consolidated income from operations of $118.4 million decreased 4.9% from $124.4 million. The decrease was primarily due to higher operating expenses, including $20.7 million attributable to ETANCO, and increased personnel costs from the increase in the number of employees supporting production, engineering and sales activities, partly offset by lower acquisition and integration costs. Consolidated operating margin decreased to 22.1% from 25.2%.

North America income from operations of $114.4 million decreased $21.3 million from $135.7 million. The decrease was primarily due to lower gross profit as well as increased personnel costs, travel related costs and professional fees.
Europe income from operations of $13.5 million increased $14.9 million from a loss of $1.4 million, primarily due to increased gross profit, partly offset by higher ETANCO operating expenses, which includes $4.2 million of amortization expense on acquired intangible assets, and lower integration costs as noted above. The Company continues to work on integrating ETANCO into its operations, which will result in additional costs in 2023. The Company has begun to capture some of the previously identified defensive synergies, with the realization of other synergies subject to changing macroeconomic circumstances, which will delay some offensive synergies.

Net income was $88.0 million, or $2.05 per diluted share of the Company's common stock, compared to net income of $94.6 million, or $2.18 per diluted share.
Cash flow provided by operating activities decreased approximately $41.6 million from $44.7 million to $3.1 million, primarily from increases in working capital and decreases in net income.
Cash flow used in investing activities increased approximately $10.0 million from $17.1 million to $27.1 million, including approximately $8.0 million for the acquisition of intangible assets and a deferred payment on a prior year acquisition. Capital expenditures were approximately $19.0 million compared to $17.8 million.
Management Commentary
"Our first quarter net sales of $534.4 million increased 8.3% year-over-year. ETANCO contributed $80.0 million to our sales in the first quarter which increased modestly year-over-year, offsetting volume declines in North America and the rest of our business in Europe," commented Mike Olosky, President and Chief Executive Officer of Simpson Manufacturing Co., Inc. "Although we experienced softer sales volumes resulting from ongoing macroeconomic challenges and weather-related issues, our strong business model encompassing our increasingly diverse portfolio of complete product solutions, dedication to innovation, unparalleled product availability and rapid delivery standards, exceptional customer service and field support, and long-standing reputation in the building industry, enabled us to deliver solid first quarter performance. Further, we maintained a strong gross margin and operating margin as a result of our effective cost control efforts despite pressures from a higher cost environment and ongoing ETANCO integration expenses. April 1st marked the one-year anniversary of our acquisition of ETANCO, which was accretive to our earnings this quarter. ETANCO has been an excellent addition to our Company given its highly complementary values-based culture and talented team of experts. We remain on-track with our defensive synergies, many of which we are already benefiting from in 2023."
Mr. Olosky concluded, "Looking ahead, while we continue to believe our North America net sales will be pressured by a softer housing market in 2023, we expect to maintain our industry-leading position as the partner of choice due to our strong business model and competitive differentiators. We are confident in our ability to continue achieving our Company ambitions, including our goal to grow above the market relative to U.S. housing starts with profitability in the top quartile of our proxy peer group."
Business Outlook
The Company has updated its 2023 financial outlook based on one quarter of financial information to reflect its latest expectations regarding demand trends, raw material costs and operating expenses. Based on business trends and conditions as of today, April 24, 2023, the Company's outlook for the full fiscal year ending December 31, 2023 is as follows:
Operating margin is now estimated to be in the range of 19% to 21%.
Annual interest expense on the outstanding Revolving Credit Facility and Term Loans, which have borrowings of $150.0 million and $427.5 million as of March 31, 2023, respectively, is expected to be approximately $9.7 million, including the benefit from interest rate and cross currency swaps mitigating substantially all of the volatility from changes in interest rates.
The effective tax rate is estimated to be in the range of 25% to 26%, including both federal and state income tax rates and assuming no tax law changes are enacted.
Capital expenditures are estimated to be in the range of $90.0 million to $95.0 million including the expected spend of $22.0 million to $25.0 million on its previously announced Columbus, Ohio facility expansion, with the balance of that project to be spent in 2024.
The Company has made solid progress on its efforts to integrate ETANCO into its operations and to realize previously identified offensive and defensive synergies in the years ahead. However, these efforts will continue to result in additional costs in 2023 that have been planned since the Company announced the transaction. Management believes the Company remains well positioned to capture meaningful benefits from these synergies, subject to macroeconomic changes, which are expected to delay realization of some of the offensive synergy opportunities.
For the complete first quarter results, click here.
About Simpson Manufacturing Co., Inc.
Simpson Manufacturing Co., Inc., headquartered in Pleasanton, California, through its subsidiaries, including, Simpson Strong-Tie Company Inc., designs, engineers and is a leading manufacturer of high quality wood and concrete construction products designed to make structures safer and more secure. Our products are designed to perform at high levels and be easy to use and cost-effective for customers. Our wood construction products are used in light-frame construction and include connectors, truss plates, fastening systems, fasteners and pre-fabricated lateral resistive systems. Our concrete construction products are used in concrete, masonry and steel construction and include adhesives, chemicals, mechanical anchors, carbide drill bits, powder actuated tools, fiber reinforced materials and other repair products used for protection and strengthening. We market our products to the residential construction, light industrial and commercial construction, remodeling and do-it-yourself markets domestically in North America, primarily in the United States, and Europe internationally. We also provide engineering services in support of some of our products and increasingly offer design and other software that facilitates the specification, selection and use of our products. The Company's common stock trades on the New York Stock Exchange under the symbol "SSD."
Copies of Simpson Manufacturing's Annual Report to Stockholders and its proxy statements and other SEC filings, including Annual Reports on Form 10-K, Quarterly Reports on Form 10-Q and Current Reports on Form 8-K, are made available free of charge on the company's web site on the same day they are filed with the SEC. To view these filings, visit the Investor Relations section of the Company's web site at ir.simpsonmfg.com.
Source: Simpson Manufacturing Co., Inc.