Aaron's Delivers 58th Teen Center Refresh to Phoenix Boys & Girls Club

The Aaron's Company (NYSE: AAN), a leading omnichannel provider of lease-purchase solutions, announced the completion of its latest teen center refresh at Boys & Girls Clubs of the Gila River Indian Community in Komatke, Ariz. The teen center refreshes are the centerpiece of Aaron's work with Boys & Girls Clubs of America, its largest giving partner and recipient of over $11 million in support since the start of the relationship in 2015.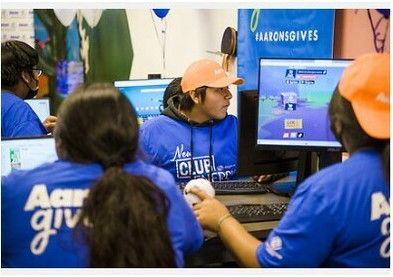 The teen center refresh projects begin with Boys & Girls Clubs of America identifying Clubs nationwide in need of updates to maintain interest from teen members. Once selected, Aaron's awards a $20,000 grant that the teens themselves decide how to use. For this 58th project just outside Phoenix, members chose to remake their Club with new couches, TVs, computers, video game consoles, a ping-pong table, a bumper pool table and classic arcade games. While refreshes have been completed at clubs in 28 states, this is the first one to take place at a Club on Native American land.
"One of the reasons we are so fortunate to partner with Boys & Girls Clubs of America is the tremendous reach they have into communities of all types across the country," said Douglas Lindsay, CEO of The Aaron's Company. "Given our long history of serving customers from Native American reservations, we feel it is important to reach teens growing up on Native land and ensure they feel seen through this program. Based on the smiles and excitement we saw on the day we revealed the refreshed teen center to the Gila River community, we are confident this transformative project made a meaningful impact."
In addition to performing teen center refreshes, Aaron's is a Silver Sponsor of Boys & Girls Clubs of America's National Keystone Conference, held each summer and attended by thousands of teen leaders from across the country. The retailer also supports Boys & Girls Clubs of America's expanding initiatives encouraging discussion around mental health.
"Aaron's continues to be a critical partner, and its teen center refresh projects bring new vibrancy to Clubs nationwide," said Jim Clark, president & CEO of Boys & Girls Clubs of America. "With 227 Clubs on Native lands reaching more than 120,000 youth, we are thrilled that Boys & Girls Clubs of the Gila River Indian Community is the first Club on a reservation to benefit from this extraordinary program."
Aaron's will complete its Spring 2023 teen center refreshes with May projects in San Antonio, Texas, and Troy, Mich.
For more information on Aaron's partnership with Boys & Girls Clubs of America and other charitable initiatives, please visit aarons.com/aarons-gives.
About The Aaron's Company 
Headquartered in?Atlanta, The Aaron's Company, Inc. is a leading, technology-enabled, omnichannel provider of lease-to-own and retail purchase solutions of appliances, electronics, furniture, and other home goods across its brands: Aaron's, BrandsMart U.S.A, BrandsMart Leasing, and Woodhaven. Aaron's offers a direct-to-consumer lease-to-own solution through its approximately 1,260 Company-operated and franchised stores in 47 states and Canada, as well as its e-commerce platform. BrandsMart U.S.A. is one of the leading appliance and consumer electronics retailers in the southeast United States and one of the largest appliance retailers in the country with ten retail stores in Florida and Georgia. BrandsMart Leasing offers lease-to-own solutions to customers of BrandsMart U.S.A. Woodhaven is the Company's furniture manufacturing division. For more information, visit investor.aarons.com, aarons.com, and brandsmartusa.com.
About Boys & Girls Clubs of America
For 160 years, Boys & Girls Clubs of America (BGCA.org) has provided a safe place for kids and teens to learn and grow. Clubs offer caring adult mentors, fun and friendship, and high-impact youth development programs on a daily basis during critical non-school hours. Boys & Girls Clubs programming promotes academic success, good character and leadership, and healthy lifestyles. More than 5,000 Clubs serve over three million young people through Club membership and community outreach. Clubs are located in cities, towns, public housing and on Native lands throughout the country, and serve military families in BGCA-affiliated Youth Centers on U.S. military installations worldwide. National headquarters are located in Atlanta. Learn more about Boys & Girls Clubs of America on Facebook and Twitter.
Source: The Aaron's Company, Inc.