Gibraltar Announces First Quarter 2023 Financial Results

Gibraltar Industries, Inc. (Nasdaq: ROCK), a leading manufacturer and provider of products and services for the renewable energy, residential, agtech and infrastructure markets, today reported its financial results for the three-month period ended March 31, 2023.
"First quarter results demonstrate a strong start to the year. We executed well delivering 14% improvement in adjusted operating income on 8% down net sales. Additionally, we delivered free cash flow exceeding 12% of net sales, enabling us to pay down a large portion of our revolver draw and continued to execute our authorized share repurchase program. Current trends in our end markets and positive customer order activity align and support our expectations and 2023 guidance," stated Chairman and CEO Bill Bosway.
First Quarter 2023 Consolidated Results
Below are first quarter consolidated results: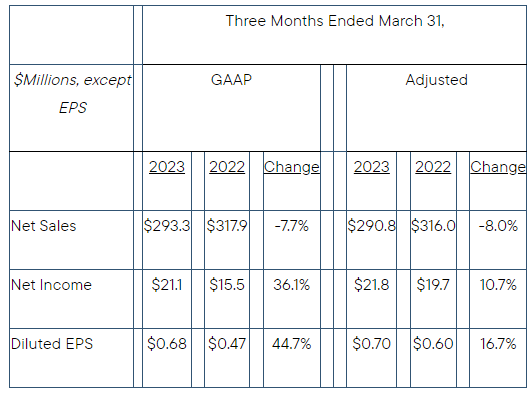 The decrease in net sales was mainly driven by end market dynamics in the Renewables segment and customer rescoping and reprioritizing fruit and vegetable growing projects in the Agtech business. Residential end market demand is evolving as expected, and the Infrastructure segment continues to have strong momentum.
GAAP earnings increased to $21.1 million, or $0.68 per share. Adjusted net income increased 10.7% to $21.8 million, or $0.70 per share, and adjusted EPS increased 16.7% driven by solid execution in the Renewables, Agtech and Infrastructure segments. Free cash flow to net sales of 12.3% was driven through stronger margin performance and improved working capital management.
Adjusted measures exclude charges for restructuring initiatives, acquisition-related items, senior leadership transition costs and the results of the processing business, as further described in the appended reconciliation of adjusted financial measures.
First Quarter Segment Results
Renewables
Net sales were down 24.9% as the U.S. solar industry continued to manage through panel importation challenges resulting from the Uyghur Forced Labor Prevention Act (UFLPA), and project movement associated with adverse winter weather conditions during the lowest seasonal quarter of the year. The pace of business continued to improve during the quarter as bookings nearly doubled sequentially. As a result, backlog increased 34% on a sequential basis and year-over-year backlog comparisons are expected to turn positive over the course of the year.
Adjusted operating margin improved as expected, increasing 920 basis points year-over-year, driven by field operations productivity and improved supply chain management that offset lower volumes.
Residential
Net sales were flat; the positive impact of participation gains and the acquisition of Quality Aluminum Products, which contributed 8.0% growth in the quarter, offset headwinds of channel inventory correction, the market's return to normal seasonal demand, and adverse winter weather in key regions of the U.S.
Adjusted operating income decreased 12.2% as anticipated as price and material cost continued to realign, and the market returned to its normal seasonal demand pattern. Sequentially, margins improved 310 basis points as price and material cost alignment improved during the quarter, and we expect margins to improve as seasonal volume accelerates, price / material cost are better aligned, and Quality Aluminum Products integration benefits are realized.
Agtech
Net sales decreased 15.3%, with adjusted net sales down 18.0% as Produce customers rescope and reprioritize the launch of fruit and vegetable growing facilities. The active project pipeline is at its highest level in company history driven by produce and cannabis projects, and bookings and backlog are expected to increase accordingly in the coming quarters.
Adjusted operating margin improved 440 basis points driven by business mix, further improvement in business operating systems, which are now fully unified across the business, and supply chain productivity and efficiency improvement.
Infrastructure
Net Sales and backlog increased 8.7% and 38%, respectively, as customer demand continues to be very strong. Management expects continued strength from increased infrastructure spending related to the Infrastructure Investment and Jobs Act and ongoing efforts to increase market participation.
Adjusted operating income more than doubled and adjusted operating margins improved 800 basis points driven by strong 80/20 execution, volume, and supply chain productivity.
Business Outlook
Mr. Bosway concluded, "As we head into the second quarter, customer bookings and demand across the business is shaping up as anticipated, and our businesses are on track for a solid second quarter. As committed coming into the year, we remain laser-focused on driving growth, margin expansion, and strong cash performance."
Gibraltar is reiterating its guidance for net sales and earnings for the full year 2023. Consolidated net sales is expected to range between $1.36 billion and $1.41 billion, compared to $1.38 billion in 2022. GAAP EPS is expected to range between $3.04 and $3.24, compared to $2.56 in 2022, and adjusted EPS is expected to range between $3.46 and $3.66, compared to $3.40 in 2022.
For the complete press release, click here.
About Gibraltar
Gibraltar (Nasdaq: ROCK) is a leading manufacturer and provider of products and services for the renewable energy, residential, agtech, and infrastructure markets. Gibraltar's mission, to make life better for people and the planet, is fueled by advancing the disciplines of engineering, science, and technology. Gibraltar is innovating to reshape critical markets in comfortable living, sustainable power, and productive growing throughout North America. For more please visit www.gibraltar1.com.
Contact:
Jody Burfening/Carolyn Capaccio – LHA Investor Relations – rock@lhai.com – (212) 838-3777
Source: Gibraltar Industries, Inc.