Homeowners Can Take Their Decks From Dream to Done With the Updated Trex® Deck Design Tool & Online Deck Planner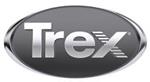 Always on the cutting edge of outdoor living, Trex Company ("Trex"), the world's largest manufacturer of wood-alternative decking and railing, and a leader in high-performance, low-maintenance outdoor living products, has upgraded its interactive deck design tool to allow homeowners to plan every detail of their outdoor space, all from the convenience of a laptop.
The revamped Trex® Deck Design Tool & Online Deck Planner is the brand's most comprehensive digital planning software to date and is engineered to make the deck planning journey efficient and all-inclusive. In addition to offering 3D renderings using realistic Trex product imagery and collections, the software can help users with budgeting, drafting blueprints for permitting and even generates a shopping list of materials, making it ideal for DIYers as well as those working with professional contractors.
"Today's homeowners have grown up surrounded by design inspiration from watching programs on HGTV and scrolling through project images and videos on Instagram. They are more design-savvy than ever and want the option to completely customize their outdoor living spaces," said Leslie Adkins, vice president of marketing and ESG development for Trex. "Our goal is to provide them with the resources and support they need to bring their personalized visions to life."
Free to use and compatible with most web browsers, the Trex Deck Design Tool expands on other Trex resources, such as the Trex AR Deck Visualizer and Deck Starter, to help walk users confidently through the deck design process. The updated technology provides advanced design options for personalization, including new features such as:
Versatile Deck Shapes –

Say goodbye to limiting your deck to a simple square or rectangular layout! With Trex's updated software, users can explore L-shapes and T-shapes, create bump-outs and cut corners, while also integrating existing structures like walls and housing.

Virtual Sides –

This key upgrade allows for the addition of structural elements such as walls, stairs and railing for added dimension and a more seamless, realistic design.

High-level Dimension Control –

Programmed for high-level accuracy and precision, the software affords users finite control over dimensions and sizing. Projects can also be measured by section – such as the main deck vs. alternate levels, as well as bump-outs and cut corners – allowing homeowners to obtain more accurate expectations of costs and material needs as they design.
The Trex Deck Design Tool allows users to handpick every element of their new deck and compare materials and colors from across the Trex decking portfolio, including the brand's latest introduction, Trex Transcend® Lineage™. Once they are satisfied with their design, the program automatically generates a materials list and cost estimate, along with a printable rendering for sharing with family, friends and potential contractors.
"Planning a deck from start to finish is no small task, but our updated Deck Design Tool makes things easier," noted Adkins. "Our proprietary software was built from the ground up based on more than 30 years of experience as the world's leading decking brand. The upgraded features and user-friendly interface will make anyone feel like a professional designer. And the shopping list makes it easy to work with your local lumberyard or retailer to order the materials you'll need bring your dream to reality."
For those short on time or who prefer to go with a proven design, Trex also offers a library of pre-designed deck plans. Homeowners also can find deck planning checklists, how-to installation videos, material calculators and more on the Trex website. To explore these resources or learn more about Trex, visit Trex.com.
About Trex Company, Inc.
For more than 30 years, Trex Company [NYSE: TREX] has invented, reinvented and defined the composite decking category. Today, the company is the world's #1 brand of sustainably made, wood-alternative decking and deck railing – all proudly manufactured in the U.S.A. – and a leader in high performance, low-maintenance outdoor living products. The undisputed global leader, Trex boasts the industry's strongest distribution network with products sold through more than 6,700 retail outlets across six continents. Through strategic licensing agreements, the company offers a comprehensive outdoor living portfolio that includes deck drainage, flashing tapes, LED lighting, outdoor kitchen components, pergolas, spiral stairs, fencing, lattice, cornhole and outdoor furniture – all marketed under the Trex® brand. Based in Winchester, Va., Trex is proud to have been named 2023 America's Most Trusted® Decking Brand and one of 2022's 50 Best U.S. Manufacturers by IndustryWeek. For more information, visit Trex.com. You may also follow Trex on Facebook (trexcompany), Instagram (trexcompany), Twitter (Trex_Company), LinkedIn (trex-company), TikTok (trexcompany), Pinterest (trexcompany) and Houzz (trex-company-inc), or view product and demonstration videos on the brand's YouTube channel (TheTrexCo).? 
Contact:
Hannah Miller – L.C. Williams & Associates – hmiller@lcwa.com – (312) 565-4612
Source: Trex Company, Inc.