Obituary: Tommie Jo Netterville Blackmon
Tommie Jo Olive Netterville Blackmon passed away peacefully on May 22, 2023 following a short illness. She was surrounded by family at her home that she loved.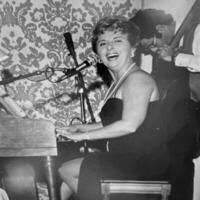 Tommie Jo was born on May 8, 1939 in Jonesboro, Arkansas. She spent her youth in Luxora, Arkansas, where she developed her talent for music, first singing and playing in church. She became an accomplished pianist and vocalist.
After graduating from Luxora High School she attended Memphis State University. When her family moved to Natchez, MS, Tommie Jo transferred to LSU and began performing in Natchez and Baton Rouge. It was then that she met and married Fred Netterville and moved to the Buffalo community outside of Woodville, in Wilkinson County, Mississippi.
Tommie Jo made a huge impact on the Woodville community. She was a faithful member and supporter of the Corinth Church of Christ, she was elected to serve as a Justice of the Peace, and was a member of the Board of Directors for the Wilkinson County Public Library. Tommie Jo was a generous patron of WCCA. She continued to use her musical talents by teaching piano and vocal lessons and playing at local social events. As a member of the Mississippi Medicine Show troupe Tommie Jo performed during the Natchez Pilgrimage and toured around the south playing for conventions and special events. She was a natural entertainer and loved to be at the piano or telling a story as only she could. She continued to play until the end.
She was preceded in death by her husband, Fredrick H. Netterville, Sr.; an infant son, Fred Netterville, Jr.; a daughter, Jennie McCraine Netterville; her parents, Ray Searcy Olive and Claudia Mae Holt Olive, and a brother, Raymond Olive.
She is survived by her husband, Samuel L. Blackmon, and her children, Charles Thomas Netterville (Jan), Claudia Barnett Estes (Ken), all of Woodville and Wilson Howard Netterville (Allison) of Oxford, MS. She is also survived by nine grandchildren and 7 great grandchildren, and many nieces and nephews.
Visitation from 12:00 till 1:00 on Wednesday May 24. Funeral at 1:00 at the Corinth Church of Christ, 1754 Buffalo Road Woodville. MS 39669.
In lieu of flowers the family asks that memorials be sent to WCCA, 2420. HWY 61, Woodville, MS, 39669
Source: Laird Funeral Home, Inc.