Carlisle Construction Materials Opens New Production and Manufacturing Facility in Southern Missouri

Carlisle Construction Materials LLC ("CCM") has officially opened its newest facility in Sikeston, Missouri. Local, regional and state leaders joined the manufacturing company's executives in a ribbon-cutting ceremony at the facility earlier today.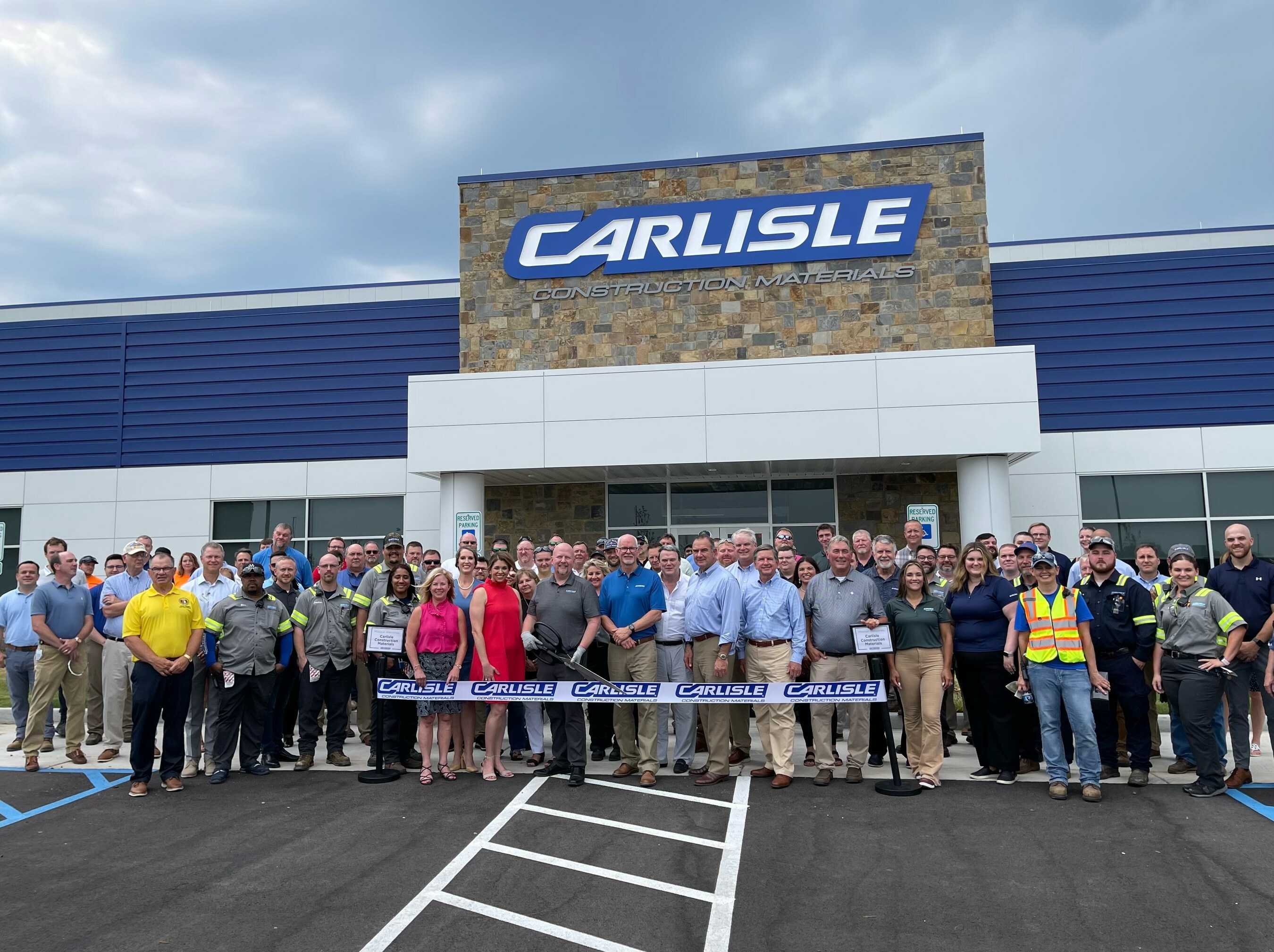 "We're proud that Carlisle Construction Materials chose to expand its business here in Missouri," said Governor Mike Parson. "This investment is a testament to our state's talented workforce, business-friendly environment, and great quality of life that has made Missouri an ideal location for leading manufacturing companies like Carlisle. We look forward to seeing how this facility and the job opportunities it creates will make southeast Missouri an even stronger place to live and work."
Carlisle Construction Materials invested more than $100 million in the new nearly 500,000-square-foot production and manufacturing facility.
"We at Carlisle are grateful for the warm welcome we have received from the State of Missouri and the people of Sikeston," said Steve Schwar, President of Carlisle Construction Materials. "This brand-new plant, which will create 100 jobs in the Sikeston region, is Carlisle's second location in Missouri. Carlisle is committed to success and growth here in Sikeston, which is an ideal location to serve our strategic and growing markets." Schwar continued, "As a company, Carlisle is very focused on being a good steward of the environment. That's why this plant, which produces energy-efficient insulation products, was built with the goal of achieving LEED Platinum status, which is a globally recognized symbol of superior sustainability achievement."
The manufacturing company chose to open this new polyiso facility in Missouri due to the state's central location, workforce and low cost of business.
"Carlisle Construction Materials is a perfect fit for Sikeston," said Mayor Greg Turnbow. "Sikeston has hard-working residents with an unmatched work ethic, which is critical for Carlisle as they open this new facility. Our community is grateful for their investment here, and we are committed to their long-term success in Sikeston."
"We are thrilled to welcome this leading manufacturer to our region," said Marcie Lawson, President and CEO of the Sikeston Area Economic Development Corporation. "Carlisle Construction Materials has an impeccable reputation, and they have already made a positive impact on our community. We are excited to watch them grow in our area."
A national leader in the roofing industry, CCM is a diversified manufacturer and supplier of premium building products and related technologies for the commercial and residential construction markets. The brand-new Sikeston facility is the company's second location in Missouri, with more than fifty locations worldwide.
"Companies continue to expand into Missouri because they can count on our central location and strong workforce to help their businesses grow and thrive for years to come," said Subash Alias, CEO of Missouri Partnership. "We're excited to see Carlisle Construction Materials open its second location in our state, and we look forward to continuing our work together."
CCM's new facility in Sikeston was designed and constructed to maximize energy efficiency and reduce carbon, demonstrating Carlisle's commitment to sustainability. The company is currently pursuing LEED Platinum certification.
About Carlisle Construction Materials
Carlisle Construction Materials is a division of Carlisle Companies Incorporated, a diversified industrial company with a global portfolio of niche brands that delivers energy efficient and highly engineered products and solutions for its customers. Driven by our strategic plan, Vision 2025, Carlisle is committed to generating superior shareholder returns by investing in high-ROIC businesses and maintaining a balanced capital deployment approach, including investments in our businesses, strategic acquisitions, share repurchases and continued dividend increases. Carlisle is headquartered in Scottsdale, Arizona.
About Missouri Partnership
Missouri Partnership is a public-private economic development organization focused on attracting new jobs and investment to the state and promoting Missouri's business strengths. Since 2008, Missouri Partnership has worked with partners statewide to attract companies that have created 32,900+ new jobs, $1.7 billion+ in new annual payroll, and $6.4 billion+ in new capital investment. Some recent successful projects that led to major investment in Missouri include Accenture Federal Services LLC, American Foods Group, Casey's, Chewy, Inc., James Hardie, Meta, Swift Prepared Foods, URBN, USDA, and Veterans United.
Contact:
Janelle Higgins – Media Contact – janelle@missouripartnership.com
Source: Carlisle Construction Materials, LLC