NAHB: Why Creating a Supportive Community for Women in Building Matters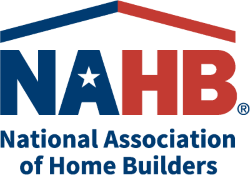 Women make up 10.9% of the workforce in the construction industry — more than ever before. Yet only 4% are directly involved in skilled trades, where they're needed most amidst a labor shortage.
Members of the PWB Council are calling to increase efforts to recruit women into the field.
It Takes a Village
Toward the beginning of the COVID-19 pandemic, Kate Eames, owner of the Anchor Group Design & Build in Wilmington, NC., logged onto her laptop to join one of NAHB's online educational courses.
It did not take long before she noticed that she was the only woman out of more than 40 participants. After the instructor presented a slide on the number of women in the home building industry, he called on Eames. "Kate, do you feel that this is accurate?"
"Absolutely not," she responded. "I don't see any women. I don't know of any women in this industry besides myself. I'm alone. I'm on an island."
However, this was before Eames' local HBA, Wilmington-Cape Fear Home Builders Association, began collaborating with NAHB's Professional Women in Building Council (PWB). The national council serves as the voice of women in the field, dedicated to promoting industry professionalism and supporting female members at the local, state and national levels.
With the help of PWB, Eames' local HBA added 70 female members in just six months.
"[Before these women joined the HBA] we were all alone on our own islands," Eames said. "We all had no idea we existed until we found each other. And it's been the coolest thing to say, 'Do you need a roofer?' 'Yeah, I got a girl!' 'Do you need a framer? 'Yeah, I got a girl!'"
'Building Women' in the Industry and Making an Impact
The camaraderie within PWB is felt throughout the Federation — and is highlighted in NAHB's 2023 issue of Building Women magazine. In the Energized, Empowered and Engaged article, Erin Hurley, director of business development at Lita Dirks & Co. says, "We're here rooting each other on, encouraging and helping provide a place to get engaged."
Diversification in home building isn't just a win for new members. The entire industry is feeling the impact of having more women enter the workforce, as well as take on leadership roles.
In the magazine's Forward Together We Soar article, PWB's 2023 National Chair Meg Thompson, CMP, CSP, of TSL Construction LLC, reminds us that, "It's a big moment for women in the industry." In fact, NAHB's 2023 National Chairman Alicia Huey is only the third woman in its history to assume the role.
Thompson also points out that the popular book "The House That She Built" has caught like wildfire, galvanizing women and PWB councils around the country.
It's through this collaboration that local PWB councils can have a positive impact on their communities. This Building Women issue highlights several local councils across the country that are doing the work in the Power of PWB: Coast to Coast feature:
Last summer, the HBA of Greater Charlotte's PWB leaders partnered with city officials, HBA members and trade partners to launch the Construction Camp for Girls.
The Utah HBA's PWB Council participated in a remodeling project that helped bring two homes up to code for LifeStart Village.
Learn more about NAHB's Professional Women in Building Week (Sept. 11-15, 2023).
Follow our Facebook and LinkedIn pages for access to exclusive PWB Week content, and engage with the community on those platforms using the hashtags #NAHBWomenInBuilding, #NAHBWomenInBuildingWeek, #WeAllBuild and #NAHB.
Read all the inspiring accomplishments of PWB members in the industry by downloading the latest issue of Building Women magazine. It is free to all NAHB members.
Source: National Association of Home Builders