Paper Excellence Canada Donates $50,000 to STARS Air Ambulance to Support Critical Lifesaving Missions

Paper Excellence Canada is proud to announce a donation of $50,000 to STARS Air Ambulance. This contribution reflects Paper Excellence's commitment to the well-being and safety of those living in the communities where the company operates.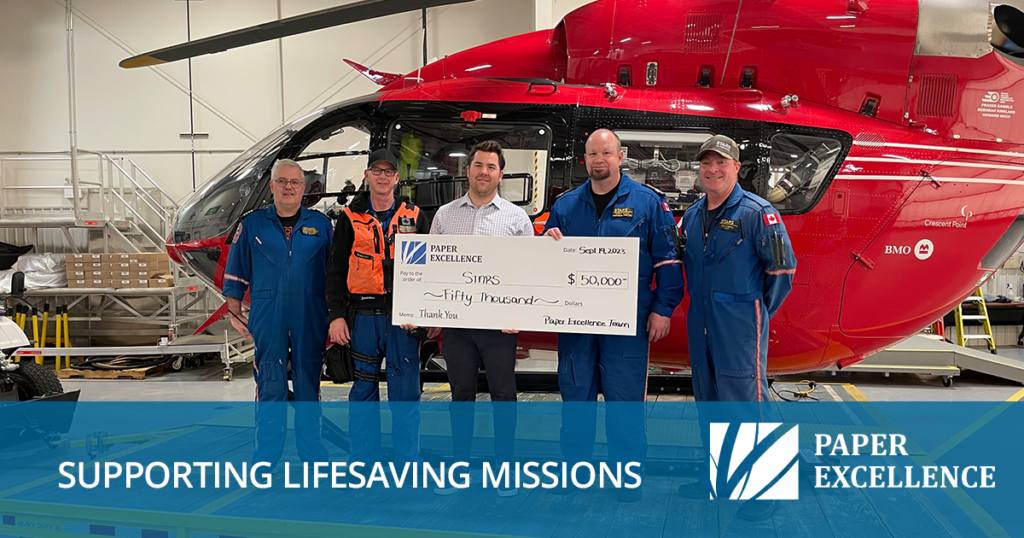 STARS Air Ambulance, a vital organization in Western Canada, plays a crucial role in providing emergency medical services to those in need. Their fleet of helicopters and dedicated medical teams are on standby 24/7, ready to respond to life-threatening situations across the province. Last year, STARS carried out over 3,300 missions from six bases in Western Canada, providing critical and life-saving care for patients.
"At Paper Excellence Canada, we recognize the critical role that STARS Air Ambulance plays in saving lives in our communities, especially in Saskatchewan and in the Kootenay region of British Columbia," said Dale Richardson at Paper Excellence Canada. "We are honoured to support the STARS mission and help ensure that urgent and professional medical assistance is available to those facing emergencies."
The $50,000 donation will contribute to the ongoing critical care operations of STARS Air Ambulance, including fuel, medical equipment, and training for their highly skilled flight and medical crews. It reinforces Paper Excellence's dedication to corporate social responsibility and its desire to make a positive impact on the health and well-being of the people in Saskatchewan and British Columbia.
"STARS is incredibly grateful for Paper Excellence Canada's generous donation," said Katherine Emberly, STARS President & CEO. "This support enables us to continue providing lifesaving critical care to patients no matter who they are or where they live."
Paper Excellence Canada continues to support the communities where it operates and has provided more than $1.5 million in donations and community support since 2021. The company is also committed to environmental sustainability. It donated $150,000 to Ducks Unlimited earlier this year to protect Canadian wetlands and $150,000 to Pacific Salmon Foundation since 2021 to support salmon habitat preservation in British Columbia.
About Paper Excellence
Paper Excellence, headquartered in British Columbia, is a diversified manufacturer of pulp and specialty, printing, writing, and packaging papers that owns 10 facilities in Canada producing over 3.0 million tonnes annually with a workforce of over 3,000. Paper Excellence is poised to continue to grow with its strategy of operational excellence and high-quality, cost-effective products.
Contact:
Brenda Martin – Public Affairs Manager – (236) 982-0484
Source: Paper Excellence Canada Holdings Corporation