PPG's New Paint for a New Start Initiative Transforms School for Children with Autism in Spain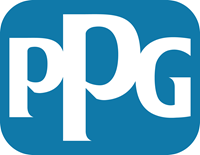 PPG announced the completion of a colorful makeover at the Centro Concertado de Educación Especial El Corro, a school for children and young people with autism in Valladolid, Spain. The project is part of the New Paint for a New Start initiative of its COLORFUL COMMUNITIES® program, and brought together more than 60 PPG employees, teachers and volunteers from the center, who spent two days transforming the interior of the ground floor.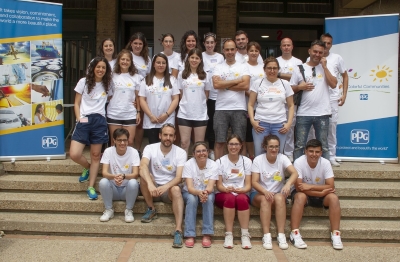 PPG provided $38,500 (€35,000) to support the renovation, including more than 100 gallons (400 liters) of SEIGNEURIE™, BONDEX™, SELEMIX™ and DYRUP™ water-based paints by PPG. PPG experts chose a range of colors specific to the use of particular rooms, including vibrant shades in areas where more energy is needed, such as the activity room, and softer hues in the classrooms and corridors. The volunteers also collaborated with local artist Nano Lazaro to create a mural depicting equity and unity represented by a circle of children.
The Centro El Corro is a pioneering educational center specializing in the care of students with autism spectrum disorder ranging from 3 to 21 years. The center began operating in 1981, with the purpose of promoting the integral development of students through a specific and internationally endorsed teaching methodology.
"Our children face a series of challenges and difficulties at a social and communicative level, to which is added an alteration in sensory processing," said Concepción Galván, president of the Valladolid Autism Association. "This sensitive and socially aware project creates friendly spaces that our students will identify through color and enhance the essence of the people themselves."
"We are very proud of the enthusiasm and cooperation in this project and the synergy created with the Valladolid Autism Association," said Alberto Palomo, PPG plant manager, Valladolid, Automotive OEM Coatings.
In the second year of New Paint for a New Start, PPG employees from around the world volunteer during the months of June, July and August to transform 25 schools. Using PPG coatings and color expertise, all projects aim to create engaging spaces for students to learn and develop.
The Colorful Communities program, PPG's signature initiative for supporting communities, aims to protect and beautify the neighborhoods where PPG operates around the world. Through the Colorful Communities program, PPG's committed volunteers contribute their time and PPG paint products to help transform community assets – from painting classrooms to bringing color to a maternity ward and redesigning a playground. Since 2015, PPG has completed more than 470 Colorful Communities projects, impacting more than 8.2 million people in 50 countries.
Click here to see a video of the project. 
PPG's global community engagement efforts and the PPG Foundation aim to bring color and brightness to PPG communities around the world. We invested $16.2 million in 2022, supporting hundreds of organizations across more than 35 countries. By investing in educational opportunities, we help grow today's skilled workforce and develop tomorrow's innovators in fields related to coatings and manufacturing. Plus, we empower PPG employees to multiply their impact for causes that are important to them by supporting their volunteer efforts and charitable giving. Learn more at communities.ppg.com.
Colorful Communities, the PPG logo and We protect and beautify the world are trademarks of PPG Industries Ohio, Inc. Bondex and Dyrup are trademarks of PPG Coatings Danmark A/S. Seigneurie is a trademark of PPG AC-France. Selemix is a registered trademark of PPG Industries Europe SARL.
About PPG Industries
At PPG (NYSE: PPG), we work every day to develop and deliver the paints, coatings and specialty materials that our customers have trusted for 140 years. Through dedication and creativity, we solve our customers' biggest challenges, collaborating closely to find the right path forward. With headquarters in Pittsburgh, we operate and innovate in more than 70 countries and reported net sales of $17.7 billion in 2022. We serve customers in construction, consumer products, industrial and transportation markets and aftermarkets. To learn more, visit www.ppg.com.
Contact:
Andrew Wood – Corporate Communications, EMEA – awood@ppg.com – +31 6 5121 6579
Source: PPG Industries, Inc.