PPG Completes Colorful Communities Project in Žilina, Slovakia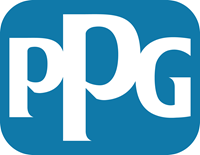 Volunteers bring vibrancy and environmental awareness to cultural center
PPG (NYSE:PPG) today announced the completion of a COLORFUL COMMUNITIES® project that helped beautify the Stanica Žilina-Záriecie cultural center in in Žilina, Slovakia. The project involved more than 40 PPG employees and volunteers from the organization, who painted the interior walls and wooden doors, created two outdoor murals and helped with gardening and construction of a new children's playground.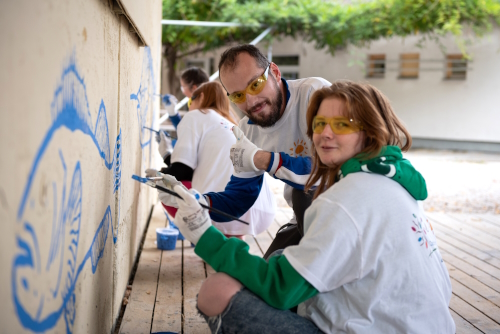 PPG provided $39,000 (36,000 euros) to support the project, including more than 31 gallons (120 liters) of PRIMALEX™, BALAKRYL™ and SIGMA™ paints by PPG, including Primalex Ceramic, which provides excellent rubbing resistance and washability. The color palette was handpicked together with PPG experts to incorporate the colors of the Žilina municipality.
One of the murals was designed by children, depicting a colorful and imaginative world that aims to to encourage them to explore their creativity and imagination. The other, created by local artist Daniel Mrázik, features a variety of endangered ocean species to serve as a reminder of the importance of preserving the environment. The mural incorporates PPG's 2024 Color of the Year, Limitless (PPG1091-3), a contemporary honey-beige shade.
"In 2002, this place was an unpleasant dilapidated building that you were afraid to walk past," said Marek Adamov, director of the Stanica Zárecie. "Gradually, thanks to volunteers, we have built a pleasant space with a summer cinema where travellers like to spend time, children come for clubs and artists rehearse their programmes. It's just a nice place, bringing all generations together. We're a place that enriches people, and that's why we're so pleased that PPG's Colorful Communities project will help us visually in that effort."
"Thanks to the energy and passion of PPG employee volunteers, we have completed 500 projects in nearly 50 countries since the program's launch in 2015, impacting more than 8.2 million people in 50 countries," said Andrej Benko, PPG sales director, Slovakia, Architectural Coatings. "Each project brings people together, creating connections while giving back to the communities and spaces that are often called second homes."
The Colorful Communities program, PPG's signature initiative for supporting communities, aims to protect and beautify the neighborhoods where PPG operates around the world. Through the Colorful Communities program, PPG's committed volunteers contribute their time and PPG paint products to help transform community assets – from painting classrooms to bringing color to a maternity ward and redesigning a playground.
PPG's global community engagement efforts and the PPG Foundation aim to bring color and brightness to PPG communities around the world. We invested $16.2 million in 2022, supporting hundreds of organizations across more than 35 countries. By investing in educational opportunities, we help grow today's skilled workforce and develop tomorrow's innovators in fields related to coatings and manufacturing. Plus, we empower PPG employees to multiply their impact for causes that are important to them by supporting their volunteer efforts and charitable giving. Learn more at communities.ppg.com.
About PPG Industries
At PPG (NYSE:PPG), we work every day to develop and deliver the paints, coatings and specialty materials that our customers have trusted for 140 years. Through dedication and creativity, we solve our customers' biggest challenges, collaborating closely to find the right path forward. With headquarters in Pittsburgh, we operate and innovate in more than 70 countries and reported net sales of $17.7 billion in 2022. We serve customers in construction, consumer products, industrial and transportation markets and aftermarkets. To learn more, visit www.ppg.com.
Contact:
František Teplýa – Central Europe Communications – FTeply@ppg.com – +421 911 836 077
Source: PPG Industries, Inc.