Trex Company Receives the 2023 Sustainable Business Leadership Award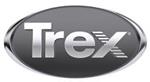 Sustainable Jersey presented Trex Company with the 2023 Sustainable Business Leadership Award, in recognition of the company's significant commitment to the core sustainability principles of people, planet and prosperity, along with strong support for values that the Sustainable Jersey program advances. Trex Company accepted the award at Sustainable Jersey's Annual Luncheon at the New Jersey League of Municipalities Conference.
"At Trex, sustainability is not just a buzzword – it's a founding principle of our company and part of our DNA," said Stephanie Hicks, materials sourcing and recycling programs manager for Trex Company. "Our high-performance composite decking is made from 95% reclaimed materials, so recycling plays a considerable role in our day-to-day operations. Through our NexTrex® Recycling Program [nextrex.com], we are proud to partner with thousands of eco-conscious retailers and community organizations like those involved with Sustainable Jersey to divert millions of pounds of plastic waste each year from ending up in landfills and give it new life as beautiful and sustainable Trex decking. We are truly grateful for their support and share this award with them."
Dozens of green teams across New Jersey have participated in the NexTrex recycling program, each collecting a minimum of 1,000 pounds of single-use plastic bags and plastic film from community members. Municipalities and other entities have the option to host and operate a Trex baler, paid for by Trex, which compacts the waste and allows communities to receive and store more plastic waste than ever. This opportunity puts local communities on the front line of diverting single-use plastics from the landfills while also helping Trex to continue to make eco-friendly outdoor products.
Sustainable Jersey Director Randall Solomon said, "Trex Company empowers municipalities and schools to be environmental champions in their local communities. The company is genuinely committed to developing new and more sustainable ways of doing business and can demonstrate tangible progress towards ambitious sustainability goals." He added, "Trex Company is an example of how a company can take sustainability and community responsibility seriously and contribute locally to improving the quality of life in New Jersey."
About Sustainable Jersey
Sustainable Jersey is a non-profit organization that provides tools, training and financial incentives to support communities as they pursue sustainability programs. Sustainable Jersey participants (municipalities and schools) have successfully implemented and documented more than 25,569 sustainability actions. Sustainable Jersey has provided more than $7.6 million in grants to municipalities, school districts and schools for community-based projects that create healthy and sustainable communities in New Jersey. Sustainable Jersey is a certification program for municipalities and Sustainable Jersey for Schools is a certification program for public schools.
About Trex Company
For more than 30 years, Trex Company [NYSE: TREX] has invented, reinvented and defined the composite decking category. Today, the company is the world's #1 brand of sustainably made, wood-alternative decking and deck railing – all proudly manufactured in the U.S.A.– and a leader in high-performance, low-maintenance outdoor living products. The undisputed global leader, Trex boasts the industry's strongest distribution network with products sold through more than 6,700 retail outlets across six continents. Through strategic licensing agreements, the company offers a comprehensive outdoor living portfolio that includes deck drainage, flashing tapes, LED lighting, outdoor kitchen components, pergolas, spiral stairs, fencing, lattice, cornhole and outdoor furniture – all marketed under the Trex® brand. Based in Winchester, Va., Trex is proud to have been named 2023 America's Most Trusted® Decking Brand* and one of 2022's 50 Best U.S. Manufacturers by IndustryWeek. For more information, visit Trex.com. You may also follow Trex on Facebook (trexcompany), Instagram (trexcompany), X (Trex_Company), LinkedIn (trex-company), TikTok (trexcompany), Pinterest (trexcompany) and Houzz (trex-company-inc), or view product and demonstration videos on the brand's YouTube channel (TheTrexCo).
*2023 DISCLAIMER: Trex received the highest numerical score in the proprietary Lifestory Research 2023 America's Most Trusted® Outdoor Decking study. Study results are based on experiences and perceptions of people surveyed. Your experiences may vary. Visit www.lifestoryresearch.com.
Contact:
Kristy Ranieri – Media Contact – (973) 762-1510
Source: Trex Company, Inc.