Fulcrum Building Group, LLC Partners with Ford Lumber & Millwork of Alabama
Fulcrum Building Group, LLC has acquired a majority interest in Ford Lumber & Millwork Company, Inc., in a transaction that closed December 1st. Fulcrum Building Group ("FBG") initially launched in July 2019 with the partnership formed by South Bay Lumber of Santa Rosa Beach, FL, Navarre Lumber of Navarre, FL, and the private equity investment firm Silver Canyon Group of San Diego.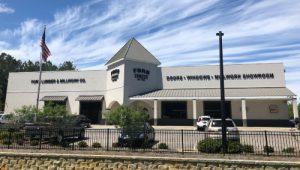 Ford Lumber, an Alabama based business with two pro lumberyards and one millwork production facility, operates in Mobile and Baldwin counties. The addition of Ford Lumber & Millwork accelerates Fulcrum's strategy of being a leading provider of building products and services to professional builders.
Craig Cowart, CEO of Fulcrum, says the company has been interested in Ford Lumber for some time. "After meeting their management team and owners, we knew right away the Ford team would align well with our company's culture and growth strategy," said Cowart. Ford's three locations extend Fulcrum's service area on the Gulf Coast and adds a new millwork production component to FBG's expertise and services.
Kelly Williamson represents the third generation of Ford family owners, along with her husband, Adam, who serves as General Counsel for Ford. The family shared, "This is a tremendous opportunity for our company and our team members. With Fulcrum's expertise in the industry and our shared vision for growth, this merger is a perfect fit for us and will provide opportunities for our employees and customers alike." Keith Wesley, a 13-year member of the Ford management team, has been named Vice President, Ford Lumber, and will oversee operations. All three locations will continue to operate under the Ford brand.
Tim Kelleher, Managing Partner of Silver Canyon shared "we continue to look for the right opportunities to invest in the building and home improvement sector and look forward to working collaboratively with our board to strengthen the businesses under our growing Fulcrum platform."
Silver Canyon is a growth-focused private equity investment firm with 28-years of experience solving the challenges of growth and scale of lower-middle market family-owned businesses. Silver Canyon brings a long-term perspective and a team that partners with management teams to foster growth. The Silver Canyon team has invested over $1.0 billion in 50 companies.
Source: Fulcrum Building Group, LLC