Madison's Reporter: Lumber Prices Flatten as Demand Remains Weak

Ongoing harsh winter weather and ample supply of lumber inventories in the field served to keep prices stable. It seemed that only the sawmill downtime and curtailment announcements of recent weeks — and months — kept lumber prices from falling lower. The balancing act of keeping manufacturing volumes in line with demand was made even more murky than usual by adequate supply, especially at resellers. Wholesalers and reloads in particular had sufficient wood available to satisfy customer inquiries. As such, actual sawmill sales were limited thus prices remained flat.
Check back with the Madison's website www.madisonsreport.com regularly to be informed of what to look for next.
In the week ending February 17, 2023, the price of benchmark softwood lumber item Western Spruce-Pine-Fir 2×4 #2&Btr KD (RL) was US$470 mfbm, which is down by -$6 or -1%, from the previous week when it was US$476 mfbm, said weekly forest products industry price guide newsletter Madison's Lumber Reporter. This is up by +$98, or +26%, from one month ago when it was $373.
The distribution network got a little frantic in an effort to shed excess material, apparently selling well-below replacement levels to clean up their inventories.
"While lumber mills maintained robust order files for the most part, the solid wood commodities market experienced no significant changes in either pricing or demand." — Madison's Lumber Reporter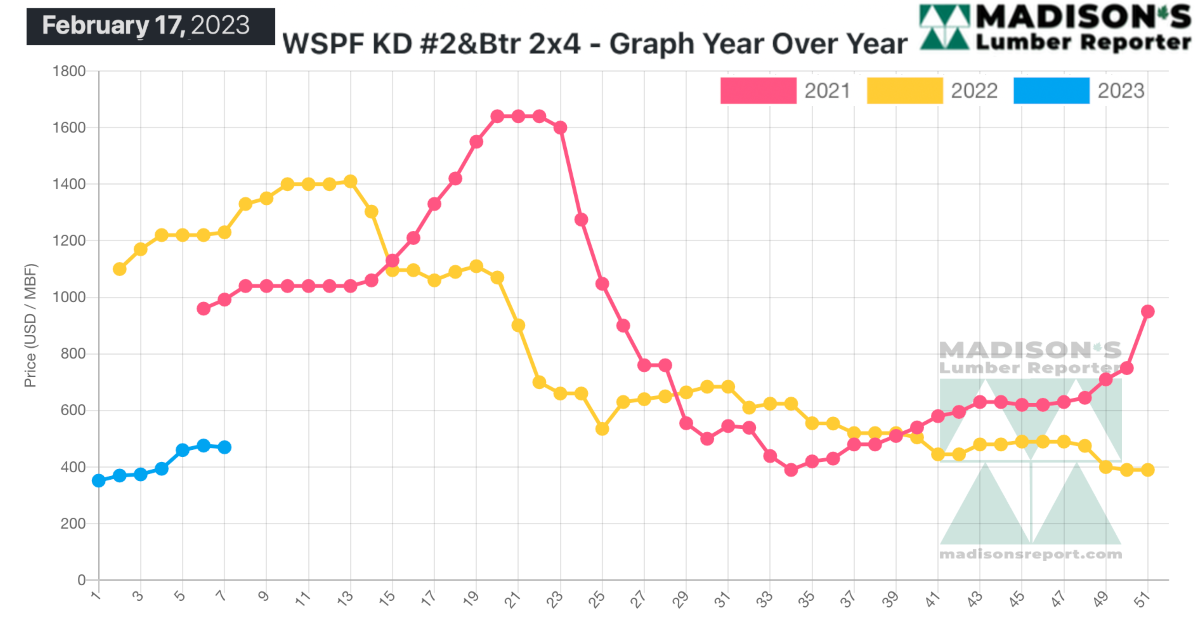 In mid-February, demand for Western S-P-F commodities was lacklustre. Buyers retreated to the sidelines, having covered their most pressing needs during late-January and early-February. Even with large volumes of overall supply taken out of the equation by sweeping closures and curtailments among WSPF producers, overbought position of many customers showed just how quickly winter inventory needs can still be met or exceeded. Meanwhile, sawmill order files were no further out than the first week of March.
Players reported a promising start to Western S-P-F trading, following an uncertain end to the previous week. Buyers were patient with their purchases, calling sawmills and secondaries multiple times to find their preferred mixes and tallies. They were often disappointed; as producers' offer lists were thin and wholesalers didn't have much better selections. Field inventory levels were apparently satisfactory however, evidenced by diminishing customer activity as the week wore on. Producers leaned on order files into early-March.
In contrast to the flatness in the rest of the Hemlock/Fir complex, prices of green Douglas-fir commodities took a tumble. At least, that was the case in dimension, while studs were unchanged from the previous week's levels. Buyers were quiet again, leading producers to bring some numbers closer in line with other Hem/Fir categories. Those price corrections did little to cajole customers however, with sales activity only worsening as the weekend approached. Sawmill order files were into the week of March 6th." — Madison's Lumber Reporter
Madison's Benchmark Top-Six Softwood Lumber and Panel Prices: Monthly Averages

Compared to the same week last year, when it was US$1,230 mfbm, the price of Western Spruce-Pine-Fir 2×4 #2&Btr KD (RL) for the week ending February 17, 2023 this price was down by -$760, or -62%. Compared to two years ago when it was $992, that week's price is down by -$522, or -53%.
About Madison's Lumber Reporter
Established in 1952, Madison's Lumber Prices is your premiere source for North American softwood lumber news, prices, industry insight, and industry contacts. The weekly Madison's Lumber Reporter publishes current Canadian and US construction framing dimension lumber and panel wholesaler pricing information 50 weeks a year and access to historical pricing as well.
Contact:
Keta Kosman – Publisher, Madison's Lumber Reporter – (604) 319-2266 –www.madisonsreport.com
Source: Madison's Lumber Reporter